Tomato Tart with Fillo and Feta Cream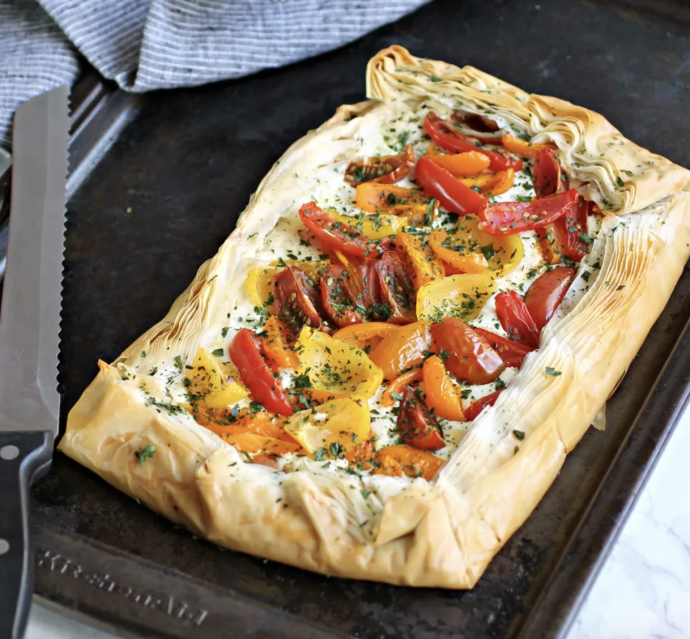 I fully confess to loving anything wrapped in pastry. Sweet, savory, a little of both—all fine with me if it's wrapped in either homemade dough, store-bought puff pastry sheets or crispy, crunchy fillo sheets. I wouldn't last long on a carb-free diet.
One thing I really like about working with phyllo is how quickly and easily I can make a tart. Yes, it seems intimidating and I thought so, too, when I first started. But once I accepted that it's meant to break and crumble and be imperfect, I realized how simple it is. Just brush each layer with oil or butter, fill it with delicious things and bake.
I found some beautiful multi-colored cherry tomatoes in the market and knew I wanted to roast them with some za'atar. So why not go ahead and turn it into a tart. The feta cream is easy to make in a little food processor and although it's crazy salty on its own, it balances perfectly with the sweet tomatoes. Enjoy!
Ingredients
6 sheets fillo pastry
2 tablespoons unsalted butter, or olive oil
4 ounces feta cheese
1/4 cup cream cheese
1 to 2 tablespoons milk, as needed
1/2 teaspoon za'atar seasoning
1/4 teaspoon dried oregano
1 pound cherry tomatoes, halved or quartered
1 tablespoon chopped fresh parsley