Potato Bake With Garlic and Parmesan Cheese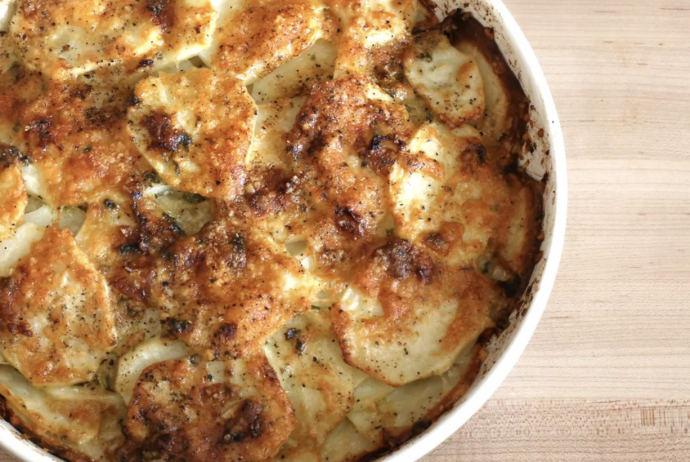 These amazing sliced potatoes are baked with butter, Parmesan cheese, and parsley. We used red-skinned potatoes in the recipe because that is what I had on hand, but russet potatoes or Yukon Gold potatoes would be excellent. You can't really go wrong with potatoes + garlic + cheese, so feel free to use whatever you have on hand.
The crusty top is full of flavor, and the casserole is super easy to prepare and bake. Feel free to use thinly sliced green onions instead of minced onions, or leave the onions out. For some smoky flavor, add about 1/4 cup of minced ham or crumbled bacon. If you can't find a high-quality Parmesan cheese, feel free to opt for another grated cheese variety, such as locatelli, romano, or pecorino. Lastly, try to opt for fresh parsley—there is much more color and flavor in fresh vs. dried.
Ingredients
1 to 2 pounds potatoes, peeled and thinly sliced
4 tablespoons melted butter, divided
2 tablespoons minced onion
1 tablespoon chopped fresh parsley
1/2 teaspoon garlic powder, or 1 clove pressed garlic
1/2 teaspoon kosher salt
1/4 teaspoon freshly ground black pepper
1/2 cup grated Parmesan cheese, divided