Ridiculously Good Wild Blueberry Muffin Smoothie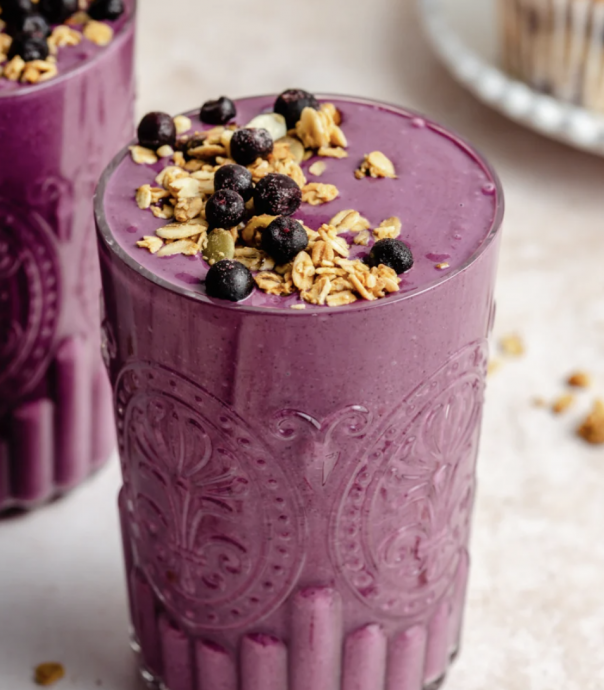 Ridiculously good blueberry smoothie made with wild blueberries that tastes just like a freshly baked blueberry muffin! This nutritious blueberry muffin smoothie is naturally sweetened without banana, has a boost of protein from greek yogurt, and is filled with muffin flavor thanks to rolled oats & flaxseed. Optional flavor add-ins included for this delicious breakfast or snack!
Wild blueberries are smaller and more flavorful than regular blueberries because they have less water in them. They're deliciously sweet and a little tangy, and they take the flavor of this blueberry smoothie recipe to the next level.
Wild blueberries are also packed with antioxidants and a compound called anthocyanin. These not only give the blueberries their deep blue/purple color but are also shown to reduce inflammation and help to prevent cell damage. Wild blueberries actually have a significantly higher amount of antioxidants and anthocyanin than regular blueberries!
Ingredients:
1 cup frozen wild blueberries (they have the best flavor!)
2 large Medjool dates, pitted and softened if necessary
½ cup vanilla greek yogurt (plain also works but vanilla has better flavor!)
½ teaspoon vanilla extract
1 tablespoon flaxseed meal
1 tablespoon hemp hearts
¼ cup rolled oats, gluten free if desired
⅔ cup unsweetened oat or almond milk (or sub any milk of choice!)
Optional add-ins:
⅛ teaspoon almond extract
¼ teaspoon cinnamon
1 teaspoon lemon zest
1 scoop vanilla protein powder of choice