Keto Chicken Broccoli Alfredo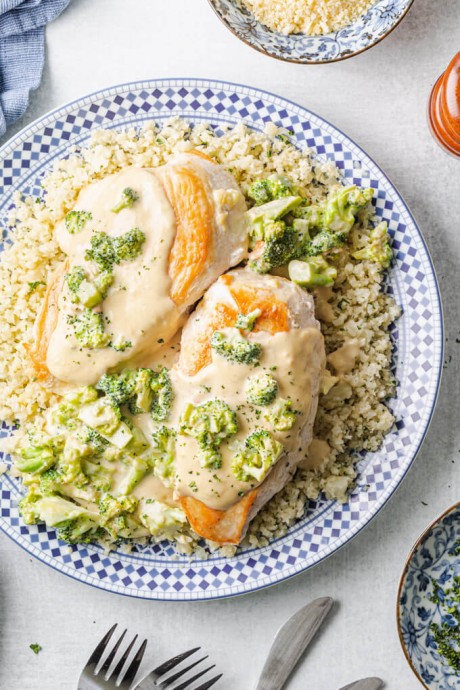 We love chicken. It's our favorite ingredient. Low in calories and packed with protein, chicken is a staple in our low carb diet. And who, besides George W. H. Bush, doesn't like broccoli? It's full of vitamins and minerals for strong healthy teeth and bones, not to mention fiber.
Since chicken and broccoli are low in calories and fat, a creamy Parmesan Alfredo sauce adds flavor, mouth-feel, and the needed fat that fuels our keto diets. The three combined make this chicken broccoli Alfredo a great tasting meal.
This dish does require some multi-tasking, but it's easy. You'll need a microwave or another pan in which to cook the cauliflower rice while you make the sauce. Since chicken cooks fast in a pan or skillet, dinner is on the table pronto.
Ingredients:
2 boneless skinless chicken breasts ( 6 oz each)
2 tbsp butter divided use
1 cup broccoli
2 tbsp water
1 tsp minced garlic
1/3 cup heavy cream
2 oz grated Parmesan cheese
1 cup cauliflower rice
salt and pepper to taste
chopped parsley for garnish