Chili Garlic Grilled Salmon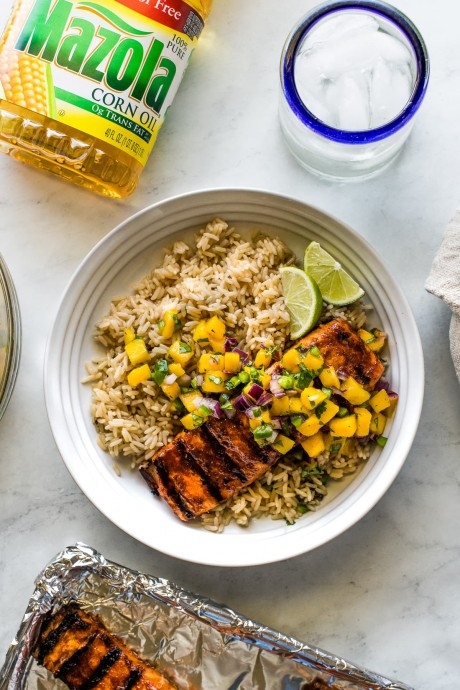 Grilled salmon marinated in a blend of spices, honey, soy sauce, lime juice, and Mazola Corn Oil then served with a refreshing mango salsa. It's flavorful, moist, and flaky every single time!
One of my favorite things to grill when the weather gets warm are fresh salmon fillets. They're super easy to grill, don't take long to cook, and can be served with a variety of different side dishes.
It's a delicious summertime protein that I make about once a week, and my family loves it so much.
If you've never marinated and grilled salmon before, don't worry! The whole process is simple and once you do it, it will quickly become one of your new favorite ways to prepare salmon!
Ingredients:
For the salmon
4 salmon filets (about 1 ½ lbs salmon)
3 tablespoons low sodium soy sauce
2 tablespoons Mazola® Corn Oil, plus more for greasing grill
1 tablespoon honey
1 lime, juiced (about 2 tablespoons)
2 cloves garlic, minced
1/2 teaspoon chili powder
1/2 teaspoon chipotle powder
1/2 teaspoon ground cumin
1/2 teaspoon smoked paprika
1/4 teaspoon pepper flakes
For the mango salsa
1 large mango, diced
1 jalapeno, finely diced
1/4 cup diced red onion
1/4 cup lightly packed cilantro, chopped
1 tablespoon lime juice (about ½ lime)
1/8 teaspoon kosher salt