Creamy Tomato Gnocchi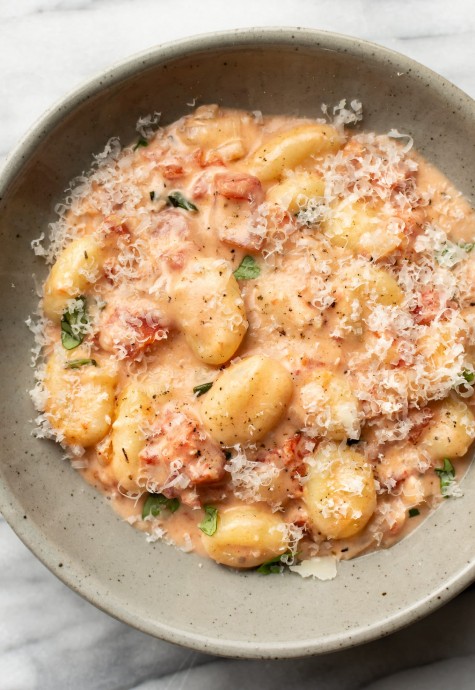 This one pan creamy tomato gnocchi recipe is easy comfort food at its best! It's convenient since it's ready in just 25 minutes, and you'll agree it's a restaurant quality dish.
This gnocchi with a creamy tomato sauce is one of those recipes that takes a few everyday ingredients and transforms them into something special and elevated. It just tastes gourmet, yet it takes under half an hour to make in a single skillet. I find myself making it for guests constantly, because who doesn't like easy clean-up?
It's one of those recipes that makes a filling meatless main, and you definitely won't feel like you're missing out. This gnocchi that's smothered in a tomato and white wine cream sauce is indulgent, and you can also serve it as a satisfying side dish.
Ingredients:
1 tablespoon olive oil
1/2 medium onion chopped finely
1/4 cup dry white wine
1 tablespoon Dijon mustard
3-4 cloves garlic minced
1/4 teaspoon dashes Italian seasoning
1 (14 fluid ounce) can diced tomatoes with juices
1 cup heavy/whipping cream
1 pound uncooked potato gnocchi
1 small handful fresh basil torn or chopped
Salt & pepper to taste
Freshly grated parmesan cheese (optional) to taste