Cherry Couscous & Arugula Salad with Balsamic Vinaigrette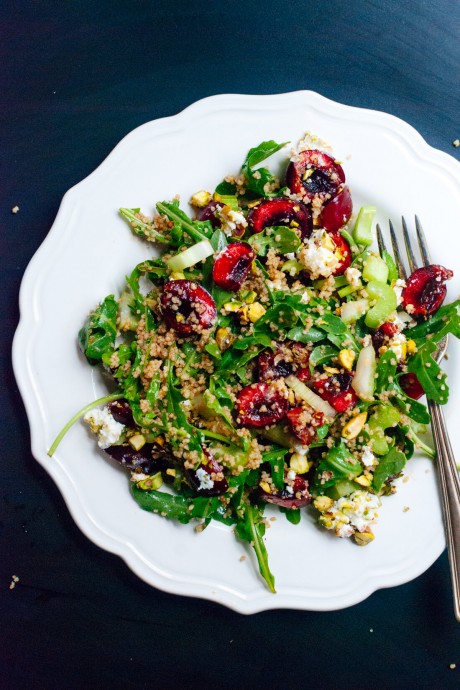 Are you stuck on the slow summer wavelength, too? Let's embrace it. Let's sit in the shade and watch the sun go down. Sip on cold drinks. Hop in the pool. Play board games on the porch. Stretch at yoga class. Maybe even do less work (and not feel bad about it). Let's fill up on big, fresh salads, too. Salads like this cherry stunner you see here.
This salad came to be after Whole Foods asked me to come up with a cherry recipe. Any recipe, as long as it contains cherries. Challenge accepted! As a reward, I got a $50 Whole Foods gift card for you (and a gift card for me, too). I don't do a lot of giveaway posts, but an offer for high quality, free groceries? You deserve a chance at that. Just don't spend it all on the dark chocolate mini malt balls in the bulk bin section… or do. They're delicious.
Ingredients:
Couscous
¾ cup whole wheat couscous
2 tablespoons olive oil
¼ teaspoon sea salt
Several twists of freshly ground black pepper
Balsamic vinaigrette (this makes extra)
¼ cup olive oil
2 tablespoons lemon juice
2 tablespoons balsamic vinegar
2 teaspoons Dijon mustard
2 teaspoons honey or maple syrup or agave nectar
Generous amount freshly ground black pepper
⅛ teaspoon salt
Salad
4 big handfuls arugula
½ pound cherries (about 2 big handfuls), pitted, halved and quartered
2 stalks celery, chopped
3 ounces goat cheese, crumbled (to yield about ⅓ cup crumbled goat cheese)
⅓ cup shelled pistachios or almonds (choose slivered or sliced almonds and you can skip the chopping step)