Marinated Cauliflower Antipasto Salad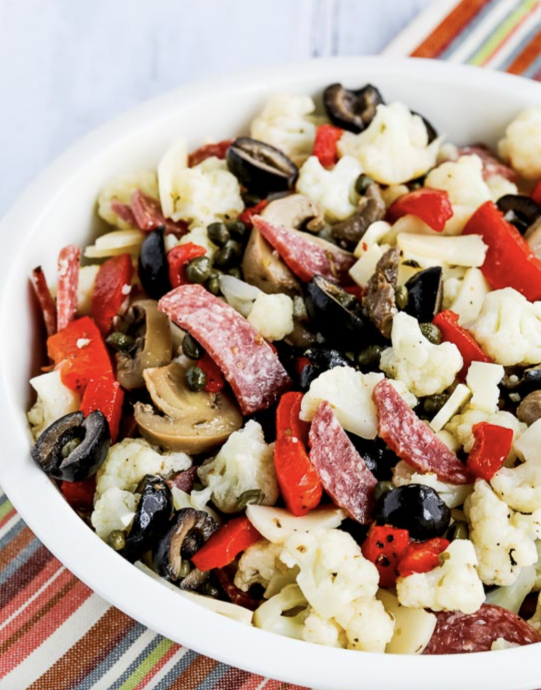 This Marinated Cauliflower Antipasto Salad is good any time of year, and if you like antipasto ingredients you'll love this salad. And this fun salad idea is low in carbs but loaded with flavor!
I love summer salads, but this Marinated Cauliflower Antipasto Salad is a low-carb salad I'd eat any time of year. This recipe was inspired by some little packets of salami and provolone cheese I discovered at Costco, and the salad turned out to be a wonderful low-carb dish that's easy to make ahead and keeps in the fridge for days. And I have been making this salad for years so this week I'm featuring it for my Friday Favorites pick!
There's another cauliflower salad on the blog that uses roasted cauliflower to add flavor. But I didn't want to use the oven so for this one I used a steamer insert (affiliate link) in a large pot to cook the cauliflower just until it was barely tender; then I drained the cauliflower well and marinated it for several hours to get the cauliflower infused with the tangy flavors in the dressing.
INGREDIENTS
4 cups chopped raw cauliflower
1 cup marinated mushrooms, sliced
2 oz. salami, cut into short strips
2 oz. Provolone cheese, cut into short strips
6 oz. can black olives, drained and cut in half
12 oz. jar roasted red peppers, drained and cut into strips
3 T capers, drained (more or less to taste)
DRESSING INGREDIENTS:
1/4 cup vinaigrette dressing (see notes)
1 T extra virgin olive oil
2 T fresh-squeezed lemon juice
1 T caper juice (from the jar of capers)
1/2 tsp. dried Greek oregano