Tomato Basil Focaccia Bread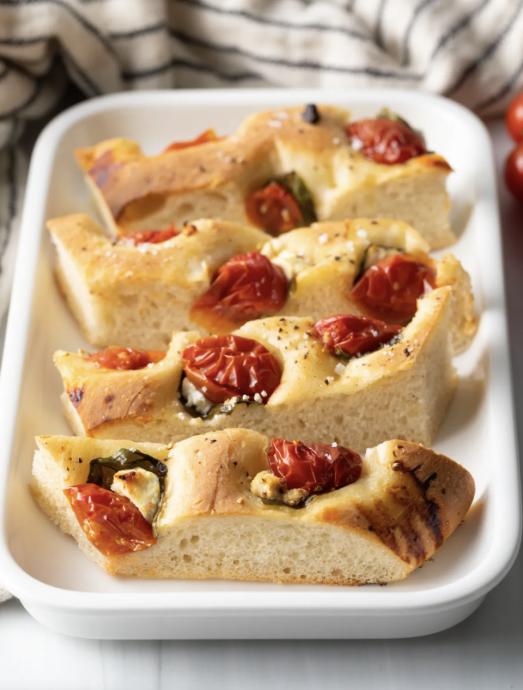 Tomato Basil Focaccia Bread – This easy recipe features flavorful cherry tomatoes, fresh basil, and creamy goat cheese baked right into tender and chewy focaccia bread.
We love the rustic texture and flavor of focaccia bread, and its free-form shape! It's especially delightful with ripe summer tomatoes, basil leaves, and little dollops of goat cheese tucked into the dimples.
Although the process does take a good bit of time (about 3.5 hours total) the steps are wonderfully easy. And once the dough is ready, Tomato Basil Focaccia Bread with cheese bakes in the oven for only 30 minutes. Then you have a beautiful, warm, chewy, and tender loaf to enjoy – either with family, friends or all by yourself… No judgment here!
Ingredients:
¼ cup hot water
1 packet dry active yeast
2 teaspoon granulated sugar or honey
1 ½ cup cold water
¼ cup olive oil + extra for the bowl and pan
2 teaspoons sea salt
4 cups all-purpose flour
16 ounces grape or cherry tomatoes
1 cup fresh basil leaves
2 ounces chevre goat cheese
Salt and pepper