Sticky Apricot Chicken and Broccoli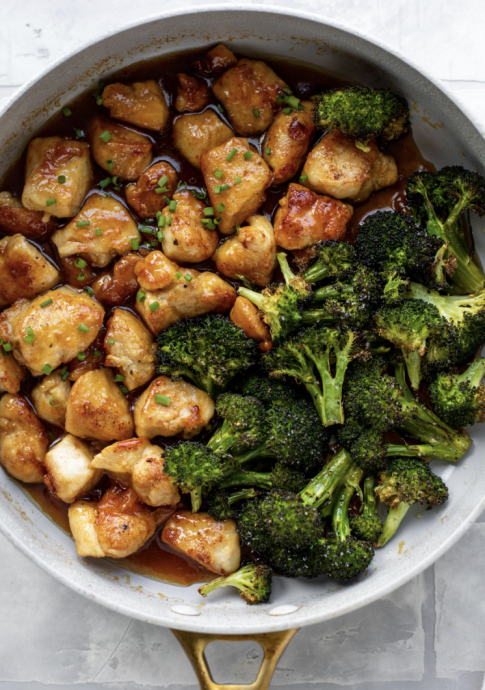 New favorite dinner alert! This apricot chicken is about to take things over the top. Holy cow. It is the best chicken recipe I have made in quite a while.
And you know! I'm always working on non-boring chicken recipes for dinner. The minute we fall into a dinner rut, especially when it involves chicken, I am over it. Instantly. But that will not happen here. Because this meal is divine. And I'm certain that you could use almost any flavor of jam and it will work. I mean, sure, I don't know if I'd suggest strawberry, but it will still work.
This meal comes together quickly too, especially for how wonderful it tastes. Yes you have to make the chicken and the sauce. But it tastes much fancier, like you threw a lot more time into it. The chicken is tender and juicy, the sauce is savory and sweet. Basically all the things I love in one dish.
Ingredients:
1 to 2 heads broccoli, cut into florets (about 3 to 4 cups)
olive oil for drizzling/spraying
salt and freshly cracked black pepper
1 pound chicken breasts, cut into 1-inch pieces
½ teaspoon garlic powder
3 tablespoons all-purpose flour
3 tablespoons olive or canola oil
¾ cup apricot jam/preserves
1 garlic clove, minced
2 tablespoons soy sauce
1 ½ tablespoons brown sugar
2 tablespoons chopped chives, for garnish
brown jasmine rice, for serving