Roasted Tomato Basil Soup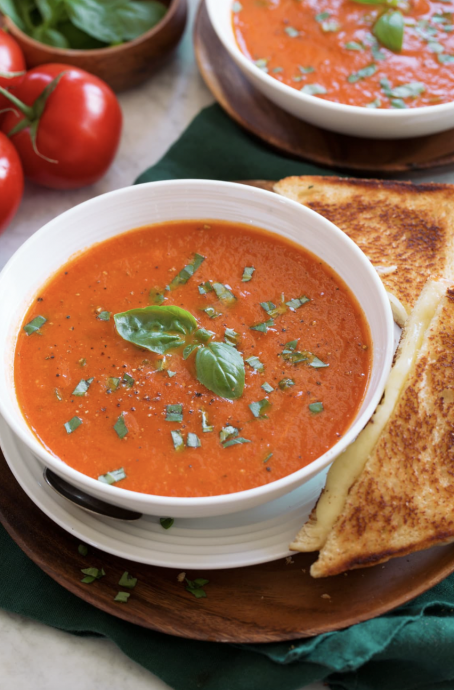 Is there a soup that says summer like a homemade roasted tomato basil soup does? In this version we oven roast the tomatoes, onions and garlic for more depth of flavor and it really makes the soup over-the-top delicious!
This is how you do comfort food. A vibrant, healthy soup with a grilled cheese to accompany it.
This soup will likely become a highlight of summer dinners, and it's a great way to use all those garden fresh tomatoes.
It requires minimal ingredients but yields such amazing results! The key ingredients include several pounds of gorgeously red ripe tomatoes, lots of flavorful fresh basil, and a fair amount of garlic for a perfectly fresh tasting soup.
Ingredients:
2 1/4 lbs Roma tomatoes, halved lengthwise
1 1/4 lbs grape tomatoes or cherry tomatoes
4 1/2 Tbsp olive oil, divided
Salt and black pepper
8 cloves garlic, peeled and left whole
2 small yellow onions, sliced just under 1/2-inch thick
1 1/2 cups (26g) lightly packed fresh basil, divided
5 cups low-sodium vegetable broth
Prepared grilled cheese or grilled cheese croutons (optional), see notes