Crab Corn Tomato Salad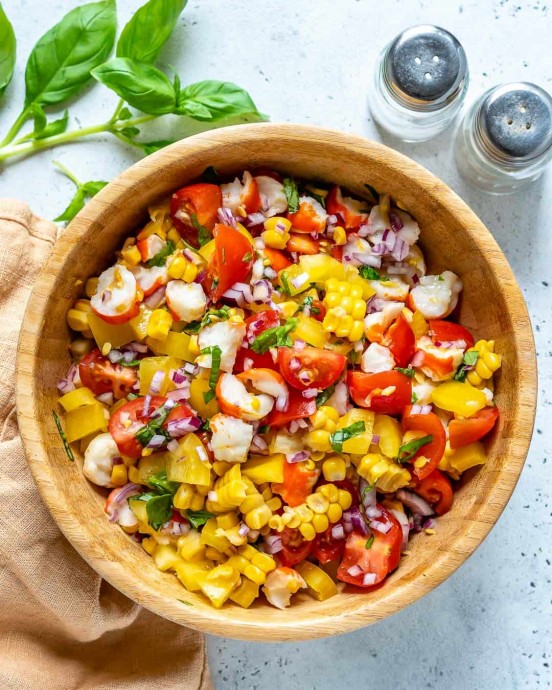 This Corn Tomato Salad is a bright and tasty salad loaded with corn, tomatoes, and crab meat for added protein. Tossed in with a delicious zesty honey mustard dressing, it will be perfect as a side dish for your next dinner. Have this summer corn salad ready in just 20 minutes!
This tomato corn salad recipe is a quick and delicious fresh salad recipe that's so easy to make and loaded with flavor. A crowd-pleasing corn salad recipe that's always a winner and works well as a side dish or simply enjoy it as is for a light lunch. Great top prepare it ahead so you can allow it to sit for 30 minutes in the fridge to allow the flavors to sink in. Loaded with vitamins, minerals, and protein, this salad is refreshing and healthy! So much flavor with every bite. You can also make this vegan or vegetarian, skipping the crab meat and maple syrup.
Ingredients:
1 tablespoon lemon zest
5 tablespoons fresh lemon juice divided
1 tablespoon extra virgin olive oil
1 teaspoon honey
1 teaspoon Dijon mustard
1/2 teaspoon kosher salt
1/8 teaspoon freshly ground black pepper
1 cup fresh corn kernels about 2 ears
1/4 cup thinly sliced basil leaves
1/4 cup chopped yellow bell pepper
2 tablespoons finely chopped red onion
1 pound crabmeat chopped
2 cups cherry or grape tomatoes halved