Sheet Pan Peach Crisp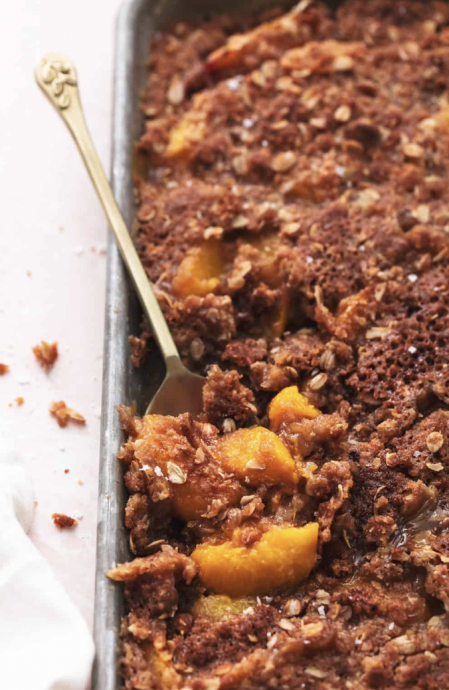 If you're in love with peach season as much as me, this recipe is perfect for you! Sheet Pan Peach Crisp won't let you down with its warm, sweet peaches and crisp, cinnamon topping.
Fruit based desserts in the summertime are a must have. When I can find fresh, local peaches at the farmers market, I like to stock up and come up with new peachy creations. If you haven't already try out my Peach Crisp Stuffed Baked Peaches or my Peaches and Cream German Puff Pancake!
This time, I made a Sheet Pan Peach Crisp! This peach crisp recipe won't take you very much time. It can be prepped and in the oven in less than 20 minutes!
I make this recipe similar to a classic peach crisp with a buttery cinnamon and oats mixture on the top. It'll crisp up in the oven and the peach filling will become bubble and gooey. I highly recommend topping it with vanilla ice cream and eating it while it is still warm!
Ingredients:
For the Peach Filling
8-10 peaches - peeled and sliced
1 tablespoon lemon juice
½ teaspoon vanilla extract
3 tablespoons flour
½ cup sugar
2 tablespoons butter - softened
For the Crisp Topping
1 cup flour
1 cup old fashioned rolled oats
1 cup brown sugar
½ teaspoon salt - optional
½ teaspoon cinnamon
10 tablespoons salted butter - chilled and cut into small cubes