Cafe Latte Turtle Cake for Two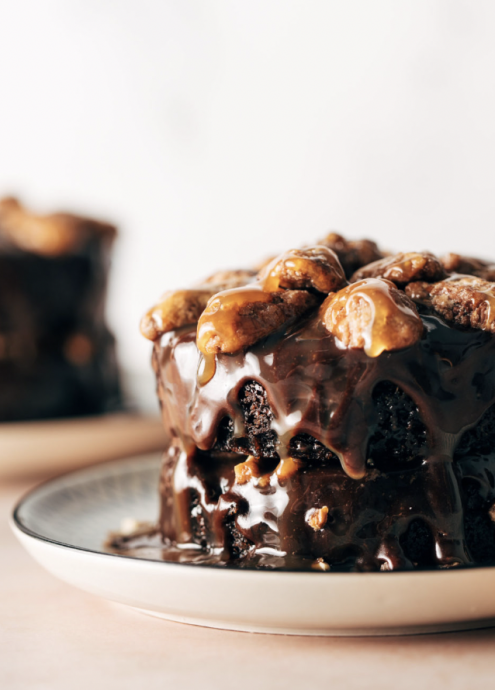 Intensely rich chocolate cake with waterfalls of caramel and pecan jewels inspired by the delicious turtle cake from cafe latte. The perfect dessert for two! Or six! Or one!
That is the story here. An intensely rich chocolatey cake, cascading with caramel, and jeweled with huge pecans. Layers on layers, possibly too many layers, and also never enough layers. This cake means business. This cake means "i love you." This is the stuff date nights are made of.
So obviously it had to be figured out how to be made at home. Because, even though it is worth a trip to st. Paul literally always, a trip into st. Paul cannot always be had. (unless you maybe live right off of grand ave. In which case, would you like a bunch of new roommates? We also come with children and pets.)
So here we are, a (maybe not so) tiny turtle cake for two. Or six. Or one. Let your heart decide.
Ingredients:
Chocolate Cake:
1 egg yolk
1/4 cup vegetable oil
1/4 cup sour cream or plain full-fat Greek yogurt
1/3 cup granulated sugar
1/2 cup flour
2 tablespoons cocoa
1/4 teaspoon salt
1 teaspoon baking soda
2–3 tablespoons strong hot coffee (this will loosen the batter up and adds great flavor)
Chocolate Frosting:
2 tablespoons milk
1/4 cup sugar
2 tablespoons butter
1/2 cup chocolate chips
1 tablespoon coffee
Toppings:
Caramel
Toasted or candied pecan pieces