Sweet & Spicy Hot Chili Chicken Noodles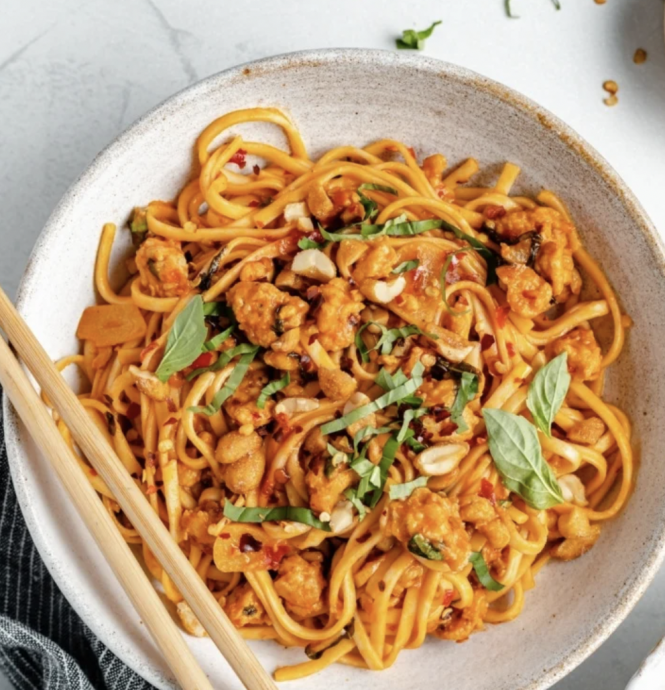 Delicious hot chili chicken noodles tossed in an easy, flavorful meat sauce. These sweet & spicy chicken noodles are packed with protein and seriously better than takeout! Top your bowl with fresh basil, roasted nuts and red pepper flakes for an extra kick of heat.
This dish was inspired by a noodle recipe I saw on Bon Appetit and I just HAD to try it out, except you know, with my own few twists here and there. It reminds me of traditional drunken noodles with a rich meaty sauce. The noodles simply drip and bathe in a fabulous sweet and spicy tomato chili sauce that's incredibly easy to make and addicting. Perfect date night in meal that seems a little fancy, but truthfully takes no time at all to whip up.
Tony and I slurped these hot chili chicken noodles up and couldn't get enough. Top them with roasted cashews or peanuts and plenty of fresh basil to bring it all together.
Ingredients:
1 tablespoon sesame oil (or avocado oil)
1 pound ground chicken
1 tablespoon freshly grated ginger
6 garlic cloves, thinly sliced
1 tablespoon coconut sugar
2 tablespoon tomato paste
2 tablespoons fresh chopped basil
3 tablespoons hot chili paste (such as sambal oelek)
3 tablespoons reduced sodium soy sauce
2 tablespoons rice vinegar
2 cup water
10 ounces ramen noodles (spaghetti, fettuccine or rice noodles will also work)
For serving:
Fresh chopped basil (I recommend basil ribbons on top!)
Chopped roasted cashews or peanuts (honey roasted is delicious!)*
Extra red pepper flakes