30 Minute Brown Butter Goat Cheese Grilled Veggie Orzo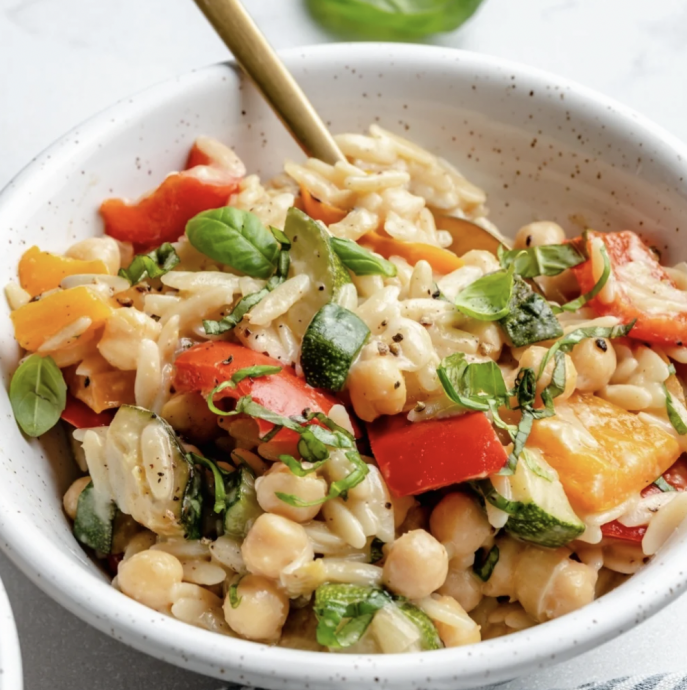 Delicious 30 minute grilled vegetable orzo with rich brown butter and creamy goat cheese. This easy and flavorful veggie orzo recipe is the perfect way to use up fresh summer produce! Enjoy as-is or with your favorite proteins for a wonderful weeknight dinner or lunch.
A savory summer dish you're going to LOVE: this 30 minute grilled vegetable orzo is filled with flavor from sweet & grilled vegetables, tangy goat cheese and warm toasty, nutty brown butter and garden fresh basil. It's a little bit of a hybrid between my incredible Brown Butter Pistachio Pesto Pasta and my Spinach Garlic Parmesan Orzo but with a summer veggie twist!
It's a wonderful pasta dish that's packed with veggies and perfect for adding your favorite proteins (omg could you imagine this with chicken or shrimp?). Sidney gobbled it up when I made it for dinner and Tony and I even enjoyed it cold the next day (still incredible). Get this delicious grilled veggie orzo on your dinner menu this week.
Ingredients:
For the grilled veggies:
1-2 tablespoons olive oil or avocado oil
1 medium red bell pepper, halved or cut into ½" thick strips
1 medium orange bell pepper, halved or cut into ½" thick strips
1 sweet yellow onion, peeled and quartered (or cut into thick slices)
1 medium zucchini, cut into ½" thick rounds or strips
1 teaspoon garlic powder
Freshly ground salt and pepper
For the pasta:
8 oz orzo pasta (1 cup dried orzo)
1/3 cup reserved pasta water
¼ cup salted butter
1/2 cup goat cheese crumbles
Optional: 1 (15 ounce) can of chickpeas, rinsed and drained
8-10 large basil leaves, julienned (about 1/3 cup packed basil)
Freshly ground salt and pepper, to taste