Pumpkin Cheesecake Cookies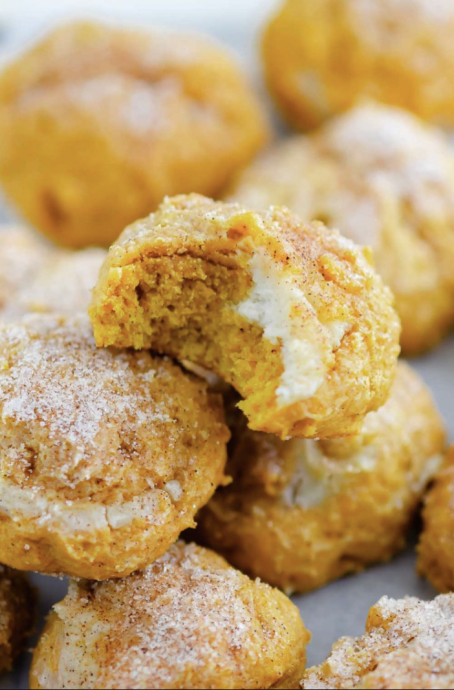 Pumpkin Cheesecake Cookies are soft, fluffy, and filled with a sweet cream cheese center. Sprinkled with pumpkin spice sugar, this easy treat is perfect for fall!
Cooler weather, cozy drinks, and pretty leaves are just a few things that I am looking forward to. Fall is my favorite season and I am here for everything pumpkin! And pumpkin recipes are plentiful around here. So let's get into this pumpkin cheesecake cookie recipe. It's the perfect fall treat and was made for the pumpkin lover. This cheesecake cookie is just as it sounds…a soft and fluffy pumpkin cookie, studded with a cheesecake center and topped with cozy fall spices. If fall was a cookie, this would be it.
Ingredients:
Cheesecake Filling:
8 ounces cream cheese (softened to room temperature)
¼ cup granulated sugar
2 teaspoons vanilla bean paste (or vanilla extract)
Cookie Dough:
4 cups all-purpose flour
1 teaspoon baking powder
½ teaspoon salt
2 teaspoons pumpkin pie spice
½ teaspoon ground cinnamon
1 cup (2 sticks) unsalted butter (softened to room temperature)
1 cup light brown sugar (packed)
½ cup granulated sugar
1 cup pure pumpkin
1 large egg
2 teaspoons vanilla bean paste (or vanilla extract)
Pumpkin Spice Sugar:
¼ cup granulated sugar
1 teaspoon pumpkin pie spice