Mushroom Carbonara with Gruyere and Hazelnuts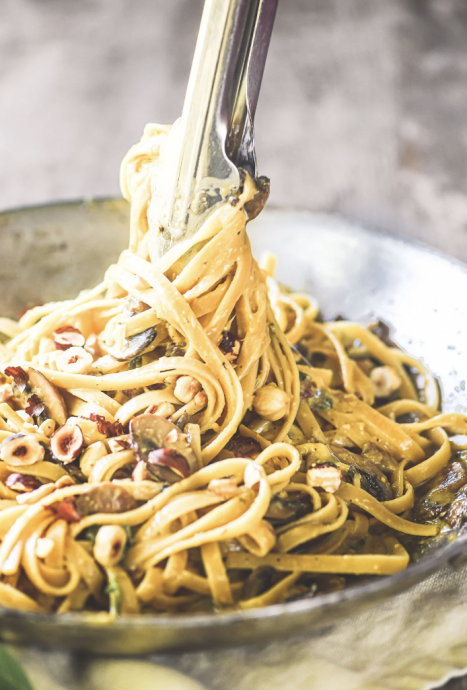 Mushroom Carbonara with Gruyere and Hazelnuts is a cozy 30 minute dinner with restaurant flavor. It might just become your favorite (almost) meatless meal!
This mushroom carbonara recipe takes the classic Italian pasta alla carbonara in a new direction while still maintaining the brilliant concept that has made the dish a favorite for generations. It's a 30 minute meal that begins by frying guanciale (pig jowl) or pancetta in a skillet, then tossing in hot pasta with a beaten egg and aged cheese mixture. This, with the help of a little starchy cooking water, becomes a silky sauce that clings to the pasta in a very luxurious way. No wonder it's everybody's favorite late night meal.
Ingredients:
4 ounces pancetta, cubed
1 Tbsp olive oil
8 ounces baby bella mushrooms, sliced
2 Tbsp sage, finely sliced
4 ounces gruyere, freshly grated (about 1 cup), plus extra for topping
3 egg yolks, plus 1 whole egg
1/2 lb fettuccine pasta
1/2 cup hazelnuts, toasted and chopped