Cheesy Mashed Potatoes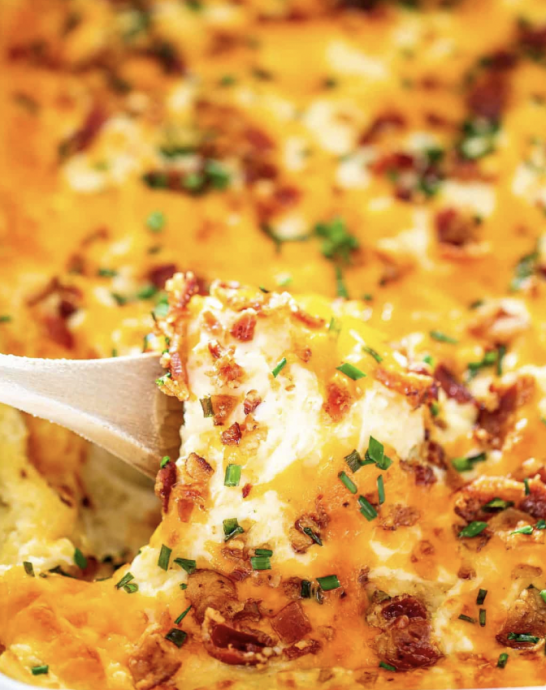 These Cheesy Mashed Potatoes are loaded with 3 different kind of cheese, bacon and chives! They are taken to the next level of deliciousness and are the perfect side dish for the holidays, gatherings or potlucks!
Mashed Potatoes! One of the easiest side dishes you could probably ever make. It is also probably one of the first things I learned to make as a little girl helping my mom out in the kitchen. Although my mom's version is very simple, but tastes great nonetheless, I like to experiment with my recipes a bit.
My mom's mashed potatoes are made with milk and butter and she'd whip them up in a mixer so they were always light and fluffy. All I can say is there are never any leftovers. Mashed potatoes with a nice roast chicken and a great salad, my kind of Sunday supper.
These mashed potatoes, however, are taken to the next level. They're amplified in flavor, texture, and creamy dreamy cheese pulls! They're super creamy, since they're mashed with butter, milk and sour cream then I loaded them with 3 different kinds of cheeses; cream cheese, mozzarella cheese and cheddar cheese.
If that wasn't enough, I then added some bacon because, well bacon, and some chives for a bit of onion flavor and most of all some green color among all that cheese.
Ingredients:
2.5 pounds potatoes such as Russets or Yukon gold
8 slices bacon
4 ounces cream cheese room temperature
¼ cup butter unsalted, melted
½ cup sour cream
½ cup milk
1 cup cheddar cheese shredded
1 cup mozzarella cheese shredded
¼ cup chives minced
salt and pepper to taste