Cinnamon Apple Cake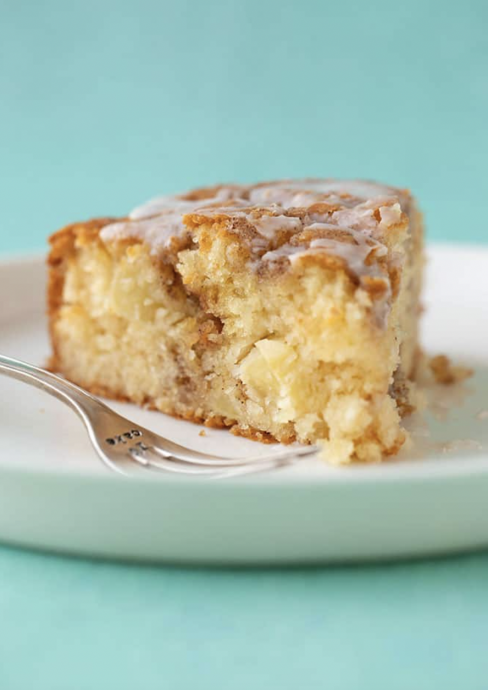 A deliciously easy Cinnamon Apple Cake made from scratch. This soft and tender Apple Cake is packed with fresh apples and features a crunchy cinnamon topping and a drizzle of sweet frosting.
Can we take a moment to talk about the match made in heaven that is apple and cinnamon? This terrifically tender Cinnamon Apple Cake is my new fave.
It's soft, it's sweet and it's jam-packed with fresh, juicy apples. The final touch is a sprinkling of sugary cinnamon and a sweet milk glaze.
Ingredients
Apple cake
210 grams (1 and 1/2 cups) plain flour or all purpose flour
2 teaspoons baking powder
1/2 teaspoon baking soda
1/4 teaspoon salt
150 grams (3/4 cup) caster sugar or granulated sugar
1 cup (approximately 1 large) red apple, peeled and roughly chopped
2 large eggs
1 teaspoon vanilla extract
120 ml (1/2 cup) vegetable oil
120 ml (1/2 cup) Greek yogurt
Cinnamon topping
50 grams (1/4 cup) caster sugar or granulated sugar
1 teaspoon ground cinnamon
1 tablespoon butter, melted
Sugar glaze
30 grams (1/4 cup) icing sugar or powdered sugar, sifted
1–2 tablespoons milk