Pumpkin Cheesecake Snickerdoodles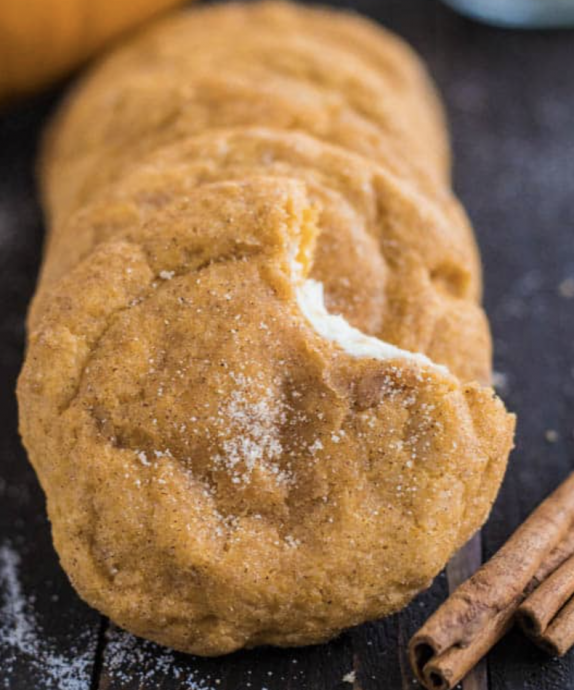 Pumpkin cheesecake snickerdoodles are a fresh take on a classic cookie! Delightfully soft and filled with tangy cream cheese, these cookies will be sure to get a "WOW!" from your friends and family!
I have seen pumpkin snickerdoodles everywhere lately and I have been dying to make them. To be honest, I love any recipes that you can add pumpkin to! This is why when I made these pumpkin cheesecake snickerdoodles that were stuffed with cream cheese well… let's just say that I couldn't stop at just one! Not only do they taste amazing, all soft and chewy, but the smell! It is incredible! The cinnamon and pumpkin smell filled my house when I baked these and after that, it was game over. I immediately had to try one. It baked so perfectly and as soon as I bit into it, the ooey-gooey cream cheese inside took it over the top.
Ingredients:
3¾ cups all-purpose flour
1½ tsp. baking powder
½ tsp. salt
½ tsp. cinnamon ground
¼ tsp. ground nutmeg freshly ground
1 cup unsalted butter at room temperature
1 cup granulated sugar
½ cup light brown sugar
¾ cup pumpkin puree
1 large egg
2 tsp. vanilla extract
Filling Ingredients:
8 ounces cream cheese softened
1/4 cup sugar
2 teaspoons vanilla extract
Cinnamon-sugar coating:
½ cup granulated sugar
1 tsp. cinnamon ground
½ tsp. ginger ground
Dash of allspice