Pesto Mushroom Chicken Lasagna Roll Ups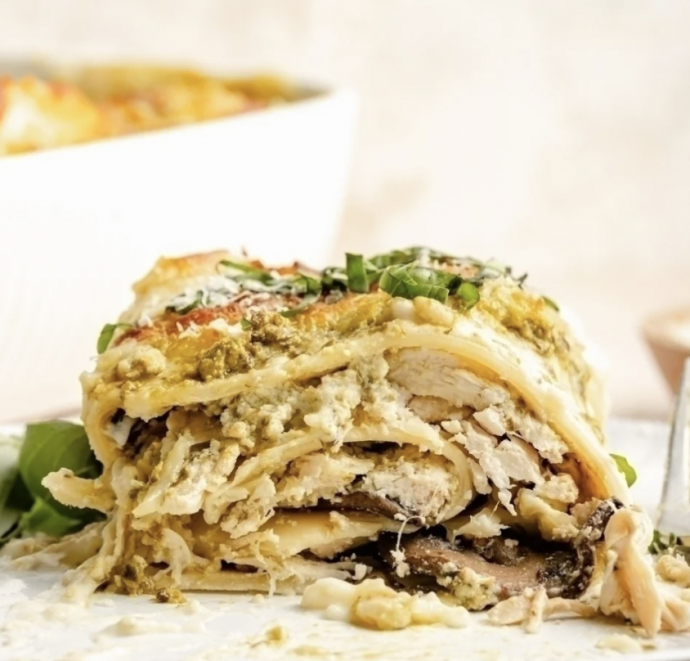 Delicious mushroom chicken lasagna roll ups with flavorful pesto ricotta and luxurious garlic parmesan cheese sauce. These easy lasagna roll ups are the perfect cozy comfort food and a great way to use up leftover chicken! Freezer-friendly and kiddo-approved.
These mushroom chicken lasagna roll ups use super simple ingredients but have tons of amazing flavor. Here's what you'll need to make them:
For the mushrooms: you'll start by cooking up some mushrooms in a little butter with thyme, salt and pepper.
For the roll ups: you'll need lasagna noodles, shredded or chopped, cooked chicken, and some mozzarella.
For the ricotta: we're taking the ricotta layer to the next level by adding your fav basil pesto! My cilantro pistachio pesto is also an amazing option. You'll also need an egg, garlic powder, salt and pepper.
For the cheese sauce: gotta bake those roll ups in a delicious sauce made with butter, flour, milk, parmesan cheese, and some more garlic powder, salt and pepper.
To tops & garnish: before baking I like to add more pesto and mozzarella, then I like to garnish the finished roll ups with extra grated parmesan and basil ribbons!
Ingredients:
For the mushrooms:
8 ounces baby bella mushrooms, sliced
1 tablespoon butter
½ teaspoon thyme
Freshly ground salt and pepper
For the lasagna roll ups:
8 lasagna noodles
2 cups shredded or finely chopped cooked chicken (about 1 pound)
1 cup shredded mozzarella cheese
For the pesto ricotta:
8 ounces whole milk ricotta
1 egg
1/3 cup your favorite basil pesto
¼ teaspoon garlic powder
Freshly ground salt and pepper
For the garlic parmesan cheese sauce:
2 tablespoons butter
¼ cup all purpose flour
1 ¾ cup milk
½ cup grated parmesan cheese
½ teaspoon garlic powder
Freshly ground salt and pepper, to taste
For on top:
¼ cup your favorite basil pesto
¾ cup shredded mozzarella
To garnish:
Extra grated parmesan
Basil ribbons