Creamy Zuppa Toscana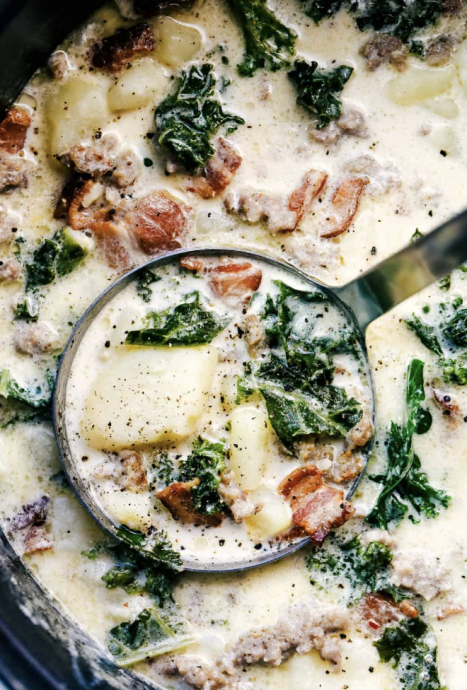 Creamy Zuppa Toscana is thick, rich and creamy sauce mixed with chunks of potatoes and spicy sausage all blended together with bacon chunks and kale to make a savory Italian soup. This is a MUST make soup this fall!
I have been a little under the weather lately, so all that sounds good to me is soup and breadsticks. We have been going to Olive Garden a lot lately. Their soup, salad, and breadsticks never disappoint.
Zuppa Toscana is creamy and amazing, while hearty and filling. I love the potatoes in the soup. The sausage and bacon added to it give it a great flavor. It is warm, creamy and smooth and it definitely hits the spot every time! This is as close to the real deal at Olive Garden as it gets and it is absolutely fantastic!
Ingredients:
1/2 pound bacon
3 cans (14 ounces) Chicken broth
2 cups heavy cream
1 lb Italian Sausage
4 russet potatoes
1 medium onion diced
2 garlic cloves minced
2 1/2 cups kale or chopped spinach
salt and pepper to taste