Peppermint Bark Cheesecake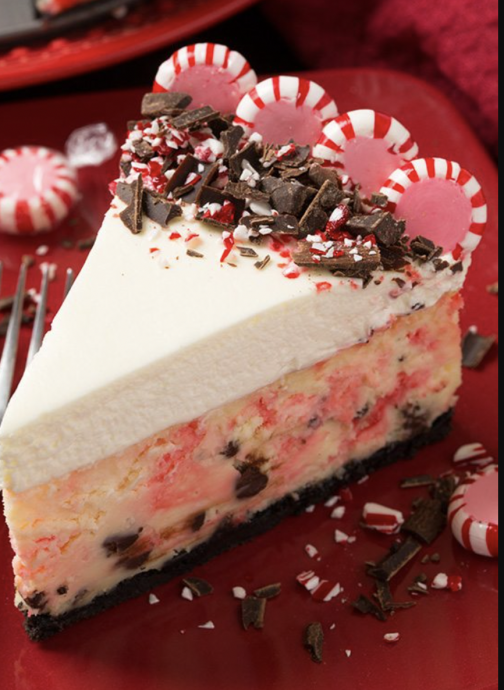 Peppermint Bark Cheesecake – all the luxury of a classic cheesecake kicked up an notch with festive peppermint flavors!
Nothing welcomes a celebration the way an over-the-top cheesecake does! Am I right or am I right? Cheesecake is one of my favorite kinds of cake.
It's always a dessert that you want to savor each and every little spec of it and not a crumb goes wasted. I mean I wouldn't complain if a generous slice of it found it's way to my dinner table every night – er, until my waistline starting disagreeing with that I suppose.
But that is why these are perfect for the holidays, yes they are indulgent but in moderation they are worth every calorie!
If you like cheesecake or peppermint bark you simply have to try this heavenly cheesecake! It's the perfect blend of the two and of course it's perfectly festive for the holidays. Even though I just barely made this I'm thinking I have no choice but to make it again for Christmas.
Ingredients:
Crust
20 (228g) cream filled chocolate wafers, such as original Oreos, finely crushed
3 Tbsp (43g) (43g) unsalted butter, melted
Cheesecake filling
6 oz white chocolate, chopped
1/2 cup (120ml) heavy cream
3 1/2 (8 oz) pkgs cream cheese, well softened (28 oz total)
1 cup (215g) granulated sugar
4 large eggs
1 tsp peppermint extract (use an extra 1/2 tsp if you'd like a stronger flavor)
1 tsp vanilla extract
1/2 cup (120g) sour cream
5 oz semi-sweet chocolate, chopped, plus about 3 oz. more for topping
1/3 cup (58g) peppermint bits or crushed candy canes or starlight mints, plus more for topping
Mousse
2 oz. white chocolate, chopped
1 cup (235ml) heavy cream
2 Tbsp (30g) granulated sugar
4 oz cream cheese, softened
1/4 tsp peppermint extract