Mushroom Puff Pastry Bites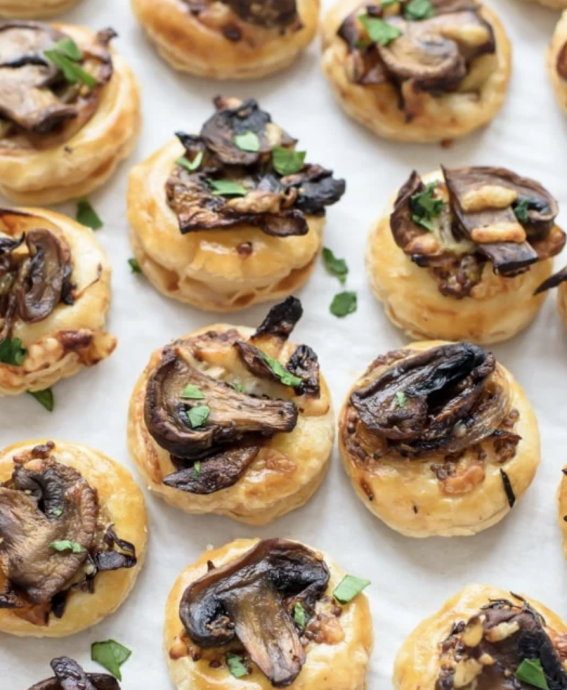 'Tis the time of year to celebrate togetherness, good cheer, and quite notably, appetizers. Pop a few Mushroom Puff Pastry Bites into your mouth, and let's rejoice!
The holidays are prime season for dips, chips, and all sorts of cute little morsels made to be munched in a single chomp like today's mushroom puff pastry bites.
Whether you're hosting a soiree, feeding surprise guests, or drifting from party to party in your light-up snowman sweater, the appetizer spread is a critical component of any holiday event. For today's puff pastry bites, I'm keeping things savory with caramelized onions, tender earthy mushrooms, and flavorful Gruyere cheese.
Better call some guests over because these mushroom puff pastry bites are about to be all dressed up and need a place to go!
Ingredients:
2 tablespoons extra virgin olive oil divided
1 large yellow onion thinly sliced
1/2 teaspoon kosher salt
16 ounces baby bella mushrooms sliced
1/2 teaspoon minced garlic
2 teaspoons finely chopped fresh thyme leaves or 1/2 teaspoon dried
1/4 teaspoon ground black pepper
1/2 cup shredded Gruyere Swiss, or similar cheese (about 1 1/2 ounces)
2, 10- inch square sheets frozen puff pastry thawed
1 egg beaten
3 tablespoons whole-grain mustard
Chopped fresh parsley for garnish