Homemade Fried Rice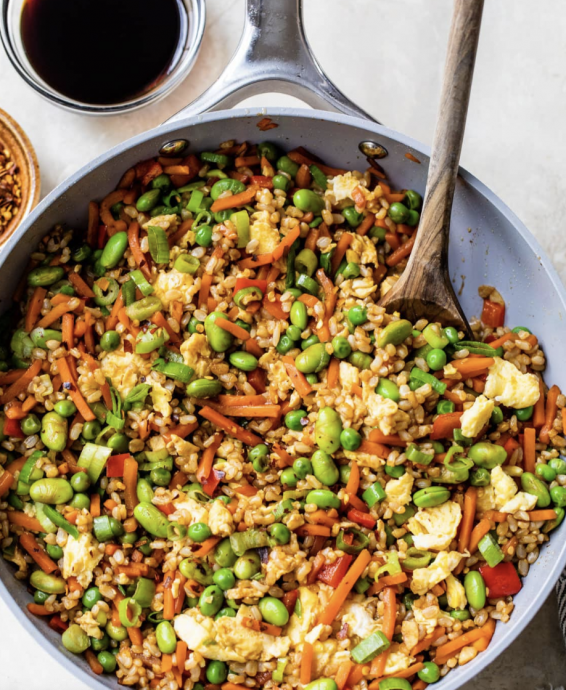 Learning how to make homemade healthy fried rice is an easy and valuable life skill.
Mastering this simple technique not only yields tasty results but adds an easy, flavorful meal to your recipe arsenal that can be ready in 15 minutes flat.
The ingredients to make fried rice couldn't be easier. This simple recipe requires any vegetables you have on hand (even frozen), egg (plus any protein you like), rice (leftover rice is best), and a homemade sauce that's just two ingredients!
Homemade fried rice is good for you! Because you can control the sugar and oil, you can use what you need and skip what you don't.
Ingredients:
1/4 cup oyster sauce*
1 tablespoon soy sauce (I use low-sodium) plus additional to taste
2 tablespoons unsalted butter divided, or butter with canola oil spread
3 large eggs lightly beaten
1 tablespoon canola oil
1 large red, yellow, or orange bell pepper cut into 1/4-inch dice (about 1 1/4 cups)
1 bag frozen peas and carrots thawed (12 ounces)
1 cup frozen shelled edamame thawed (optional, but great for extra protein)
2 cloves garlic minced
2 1/2 cups COLD cooked brown rice break up large clumps with your fingers
1/2 cup chopped green onions about 3 medium
Red pepper flakes Sriracha, or hot sauce of choice (optional)