Roasted vegetable ragu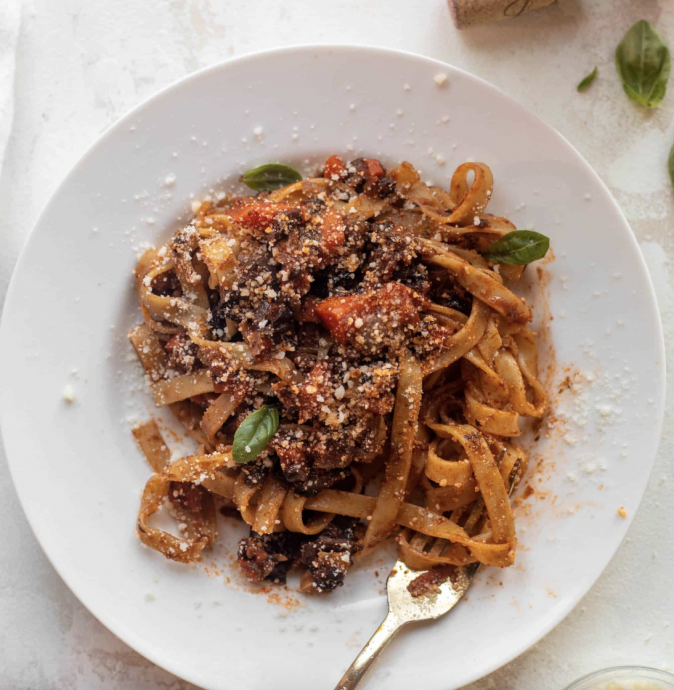 Roasted vegetable ragu is a hearty, satisfying sauce made from charred vegetables, tomato paste, spices and red wine. It's cozy and comforting, and tastes amazing served over soft pasta noodles. A new delicious staple!
This vegetable ragu is filled with carrots, mushrooms, celery, onions and garlic – made with a touch of tomato paste, red wine and parmesan, the depth of flavor is incredible and it coats noodles beautifully. It's also super filling!
Ingredients:
4 large portobello mushrooms, quartered
12 whole garlic cloves
2 large carrots, peeled and cut into third
1 sweet onion, chopped into quarters
1 celery stalk, cut into thirds
4 tablespoons olive oil
kosher salt and pepper
8 ounces sliced cremini mushrooms, chopped
½ cup tomato paste
1 teaspoon dried basil
1 teaspoon dried oregano
½ teaspoon crushed red pepper flakes
½ cup dry red wine
½ cup grated parmesan cheese
1 ½ cups reserved pasta water
8 to 16 ounces cooked pappardelle pasta, for serving