Mushroom Gravy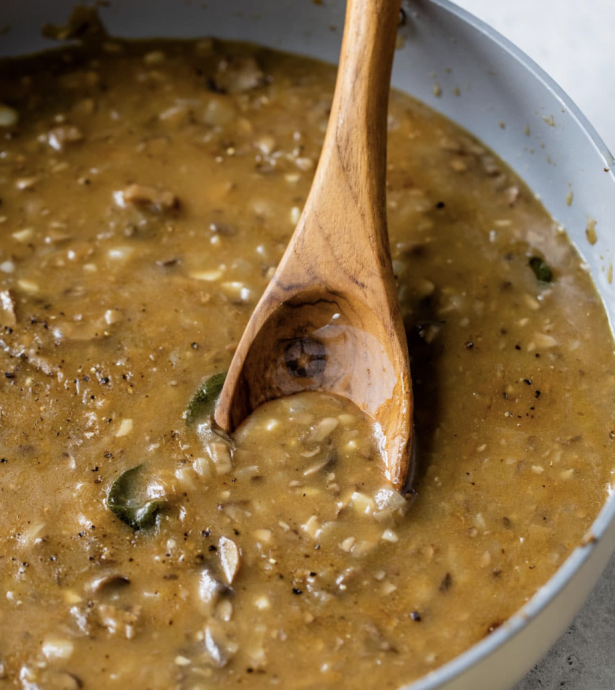 When you want great gravy without drippings to deal with: Mushroom Gravy is the recipe!
This has been my go-to gravy recipe for years because unlike classic Turkey Gravy, you don't need drippings to cook it.
No drippings means no waiting for the turkey to cook, so you can make this gravy in advance. By the time I've finished cooking the perfect turkey, I am happy the gravy is already done.
If you'll have guests at your party with a range of dietary needs, mushroom gravy is vegetarian and easy to adapt to be vegan and/or gluten free.
Mushroom gravy is also perfect when you want gravy outside of Thanksgiving. Use mushroom gravy for steak and Air Fryer Pork Chops, for biscuits, or even Roasted Green Beans.
Ingredients:
6 tablespoons unsalted butter or non-dairy butter spread or olive oil
1 large yellow onion finely chopped
8 ounces baby bella mushrooms very finely chopped
8 ounces baby bella mushrooms thinly sliced (optional; omit if you have mushroom skeptics)
4 garlic cloves minced (about 4 teaspoons)
6 tablespoons all-purpose flour use 1:1 flour substitute to make gluten free
4 cups vegetable stock
2 tablespoons brandy optional
10 large fresh sage leaves
2 bay leaves
2 teaspoons low sodium soy sauce or tamari to make gluten free
½ teaspoon kosher salt
¼ teaspoon ground black pepper