Gingerbread Cupcakes with Pumpkin Frosting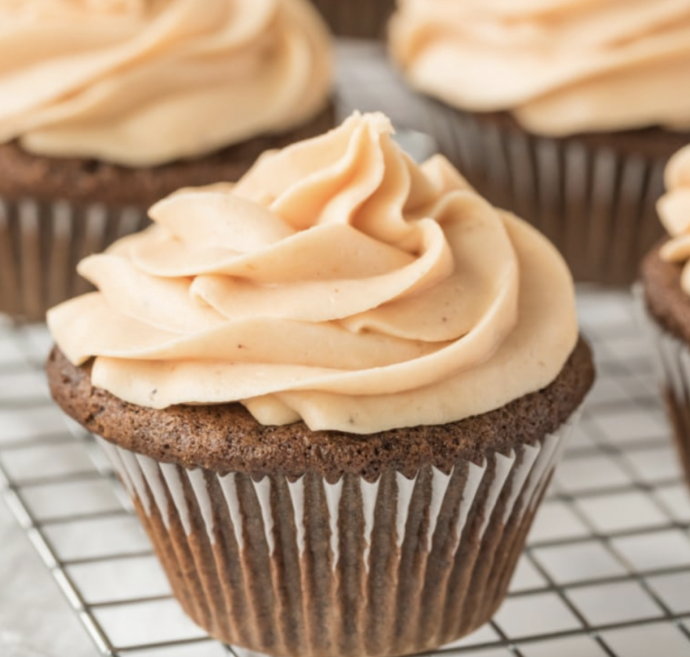 These Gingerbread Cupcakes with Pumpkin Frosting are the perfect fall holiday dessert recipe.
Mix up your gingerbread cupcake batter. You'll need molasses and plenty of warm fall spices for this (ginger, cinnamon, allspice, nutmeg and cloves. Those are the magic ingredients that make gingerbread so good. Divide the batter evenly between cupcake papers in a muffin tin. Bake for about 20 minutes, until a toothpick inserted into the center comes out clean. The cupcakes won't rise much at all– flat tops. And if they happen to sink in the middle, don't worry because you will be slathering them with frosting.
Ingredients:
GINGERBREAD CUPCAKES:
5 tablespoons unsalted butter, at room temperature
½ cup granulated white sugar
½ cup molasses
1 large egg
1 large egg yolk
1¼ cups all purpose flour
1 tablespoon Dutch process cocoa powder
1 tablespoon ground ginger
1 teaspoon ground cinnamon
½ teaspoon ground allspice
½ teaspoon ground nutmeg
¼ teaspoon ground cloves
¼ teaspoon salt
1 teaspoon baking soda
½ cup hot milk
PUMPKIN FROSTING:
8 ounces cream cheese, at room temperature
¼ cup unsweetened pumpkin puree
¼ teaspoon ground nutmeg
½ teaspoon vanilla extract
3½ cups powdered sugar (more, if you prefer to pipe on the frosting instead of spreading)