Crispy noodle slaw with a soy, honey & ginger dressing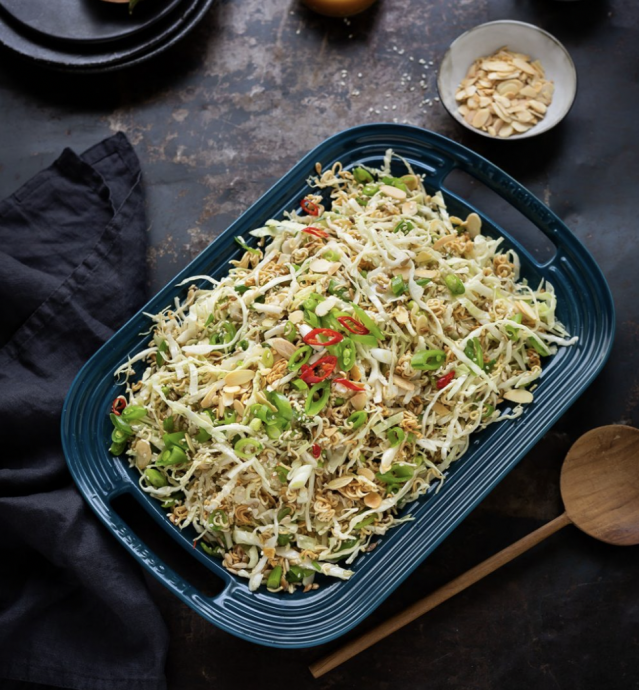 This crispy noodle slaw with soy, honey & ginger dressing is a family favourite and I've given it an update with chilli and ginger for a dash of heat. I love a versatile salad that goes with everything and this is one of those. It's the perfect side to serve at a braai (BBQ).
Get all the components ready in advance and then toss them together just before serving. The toasted noodles, seeds and almonds add an incredible crunchy texture and the flavour-packed sweet and salty dressing brings it all together. Use one or 2 packets of noodles depending on how crunchy you like them. Add wasabi, chilli or dried chilli flakes if you like a little heat, but omit them if you are serving this salad to children.
Ingredients:
Salad:
1 – 2 packets of 2-minute noodles
5 cups finely shredded cabbage
½ cup finely sliced sugar snap peas (optional)
1/3 cup of flaked almonds, toasted
1/3 cup sunflower seeds toasted
+-2Tbsp toasted sesame seeds
6 spring onions finely sliced (white and pale green parts)
Dressing:
2 Tbsp + 2 tsp soy sauce
¼ cup red wine vinegar
1/3 cup sunflower oil
1 tsp sesame oil (optional)
¼ cup runny honey
1 x garlic clove, minced
1 heaped tsp grated ginger
1 – 2 tsp wasabi paste, or one red chilli finely sliced, or a ½ tsp dried chilli flakes (optional to add heat)