Creamy Sausage and Potato Soup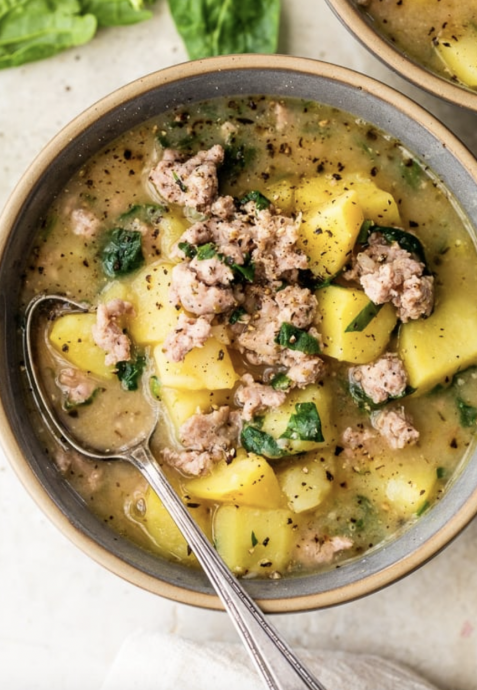 This easy sausage and potato soup is hearty, healthy and dairy-free, made creamy by pureeing cannellini beans.
Potato soups are so comforting in the colder months and this sausage and potato soup is sure to be a family dinner pleasure! Made with sweet Italian chicken, turkey or pork sausage, potatoes, spinach and white beans.
The key to making this soup creamy without cream is the cannellini beans. I do this a lot with many of my soup recipes. Plus beans are packed with protein and fiber, adding a richness to this soup that complements the hearty flavors of the Italian sausage. If you have young ones, the potatoes are softened making them great for beginner eaters, passing the "squish test." You may ask yourself why you would ever need dairy to thicken a soup again once you try this trick.
Ingredients:
1 teaspoon extra-virgin olive oil
4 mild Italian turkey or chicken sausage links pork or vegan sausage can also work
1 small onion diced
4 garlic cloves minced
2 teaspoons Italian seasoning
1 can 15 ounces cannellini beans, drained and rinsed
1 container 32 ounces low-sodium chicken or vegetable broth
4 cups cubed yellow potatoes peeling optional
1/2 teaspoon salt
Black pepper to taste
1 cup finely chopped spinach