Fried Fish Sandwich With Tartar Sauce and Hand-Cut Chips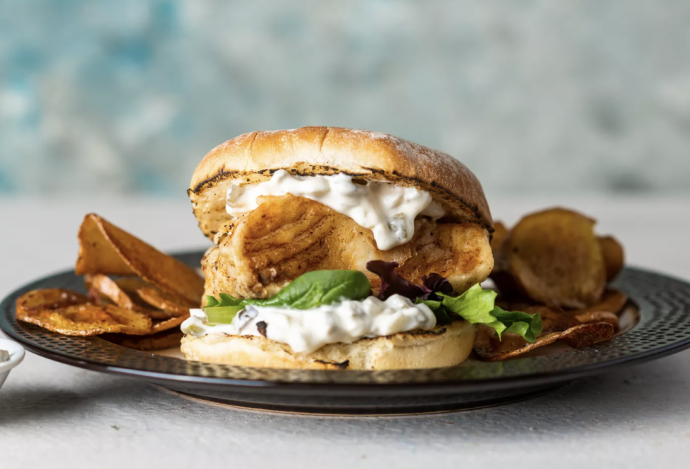 A fried fish sandwich with tartar sauce and crispy chips just seem to say summer—even if it's cold outside. In this recipe, the fish is coated in a tempura-like batter, fried until crisp, and then served on a toasted bun with homemade tartar sauce and a side of hand-cut potato chips. Halibut fillets are used here, but any firm, dense fish will do.
The tartar sauce is a simple mixture of mayonnaise, diced cornichons (small gherkins), onion, and capers, making the perfect cool, creamy foil for the crispy fish. The chips are paper-thin slices of potato fried only for a few seconds, resulting in crunchy, salty chips—the perfect accompaniment!
Ingredients
For the Tartar Sauce:
1/2 cup mayonnaise
1/4 medium onion (diced)
1 teaspoon drained capers (rinsed)
6 cornichons (or small gherkins) diced
For the Hand-Cut Chips:
1 to 2 medium potatoes
2 cups vegetable oil (or sunflower oil) for frying
Salt to taste
For the Tempura Battered Fish:
1/2 cup all-purpose flour
1/2 cup tapioca flour
1/2 teaspoon baking powder
3/4 cup cold water
2 halibut filets
For the Sandwiches:
2 hamburger buns
1 handful mixed lettuce