Muffin Tin Pizza Bombs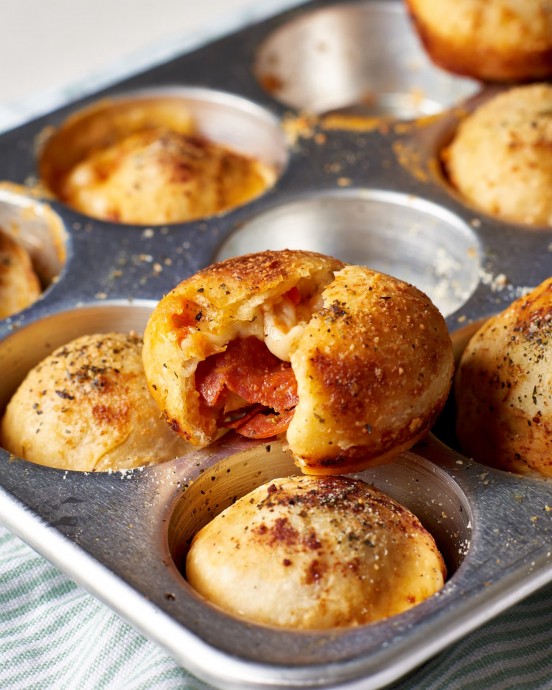 Turning that classic pizza pie into these pockets could not be simpler. Pizzas come baked on stones, licked by grill fire, or toasted on thick French bread. This week, change it up by baking bite-sized bundles of pizza in a muffin tin. The metal cups of the tin cradle the dough, holding their shape and crisping the crust to a rich golden-brown hue.
Pizza bombs are destined to be a meal plan favorite for pint-sized and full-sized family members alike. Chewy, Parmesan-flecked dough surrounds tangy pizza sauce, spicy pepperoni, and a gooey knob of melted cheese perfect for Pizza Friday, after-school snacks, or absolutely no reason at all. Tuck in your toppings — go classic with a pair of pepperoni slices and a cube of mozzarella — before closing the pocket of dough. Set seam-side down into a standard muffin tin and bake until brown. Building and baking pizzas are ideal for helping kids get comfortable in the kitchen. Hand them a teaspoon for scooping sauce, watch them swirl it around. Ask them to count how many pieces of pepperoni are needed, or help them with their scissor skills by snipping mozzarella into cubes with kid-sized kitchen shears. Kids' small hands are the perfect size for shaping these bite-sized bundles. With their help, building a double batch to stash in the freezer for a quick after-school snack or a playful take on Pizza Friday is fast and fun. Muffin Tin Pizza Bombs are also a great Christmas Eve appetizer.
Ingredients:
1 pound pizza dough, at room temperature for 1 hour
6 teaspoons marinara sauce, divided, plus more for serving
24 slices pepperoni
6 ounces low-moisture mozzarella cheese, cut into 12 pieces
4 tablespoons (1/2 stick) unsalted butter, melted
1/4 teaspoon garlic powder
1/2 teaspoon kosher salt
1/4 cup grated Parmesan cheese, divided
1 1/2 teaspoons Italian seasoning, divided