Spaghetti Bolognese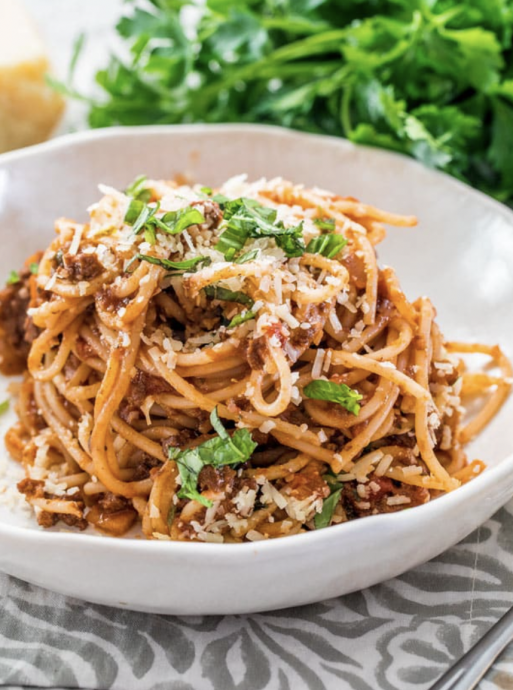 Spaghetti Bolognese is a classic Italian meat sauce that is a staple in most families. My super simple Spaghetti Bolognese is the perfect dinner for any night of the week and will wow your family or guests.
Spaghetti Bolognese is one of those recipes that takes me back to my 20's. It was one of those dishes that my sister used to make all the time and I'd always stop over for dinner and we'd have a big bowl of Spaghetti Bolognese. I can even go as far as saying that it was her specialty. The odd thing is that we loved to serve it with feta cheese, not Parmesan. If it sounds strange to you, don't knock it till you try it.
But since then I've obviously learned to make it by myself and it's one of those dishes that really everyone loves, including my husband who hates pasta. Nobody ever says no to a good comforting bowl of spaghetti Bolognese.
Ingredients:
1 pound spaghetti (uncooked)
2 tablespoon olive oil
1 pound ground beef (extra lean)
1 large onion (chopped)
4 cloves garlic (minced)
1 tablespoon oregano (dried)
¼ teaspoon red pepper flakes
2 tablespoon tomato paste
1 cup red wine
28 ounce crushed tomatoes ((1 can))
2 tablespoon basil (chopped)
½ teaspoon salt (or to taste)
½ teaspoon pepper (or to taste)
¼ cup heavy cream
½ cup Parmesan cheese (grated)
2 tablespoon basil (chopped, for garnish)