Homemade Vegetarian Chili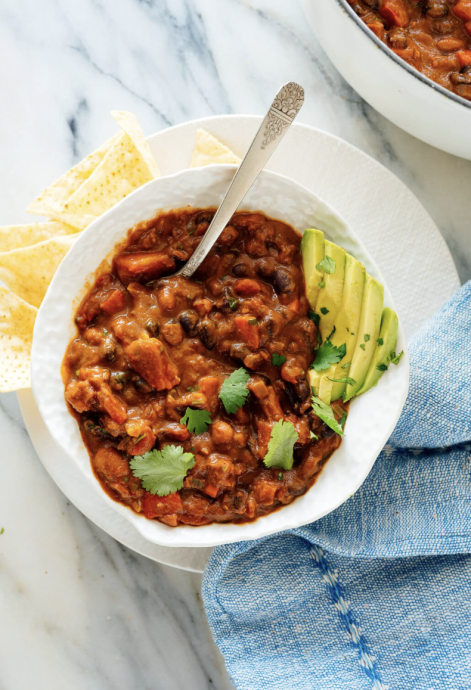 It's freezing cold outside, and has been for days. All I want to eat is cozy comfort food like this vegetarian chili recipe. It's my favorite, and leftovers taste even better the next day.
This chili is perfect for watching football games with a crowd, since it's a hearty meatless option that carnivores will enjoy. Plus, it can be vegan and gluten free if you choose your toppings carefully. This chili will satisfy everyone.
This chili is dairy free and vegan as written. You can keep it that way be choosing vegan toppings like sliced avocado and tortilla chips.
Here's a full list of options:
Grated cheddar cheese
Sour cream or crème fraîche
Sliced or diced avocado
Tortilla chips (crumbled if desired)
Additional cilantro
Lime wedges
Ingredients:
2 tablespoons extra-virgin olive oil
1 medium red onion, chopped
1 large red bell pepper, chopped
2 medium carrots, chopped
2 ribs celery, chopped
½ teaspoon salt, divided
4 cloves garlic, pressed or minced
2 tablespoons chili powder*
2 teaspoons ground cumin
1 ½ teaspoons smoked paprika*
1 teaspoon dried oregano
1 large can (28 ounces) or 2 small cans (15 ounces each) diced tomatoes**, with their juices
2 cans (15 ounces each) black beans, rinsed and drained
1 can (15 ounces) pinto beans, rinsed and drained
2 cups vegetable broth or water
1 bay leaf
2 tablespoons chopped fresh cilantro, plus more for garnishing
1 to 2 teaspoons sherry vinegar or red wine vinegar or lime juice, to taste
Garnishes: chopped cilantro, sliced avocado, tortilla chips, sour cream or crème fraîche, grated cheddar cheese, etc.