Mujadara (Lentils and Rice with Caramelized Onions)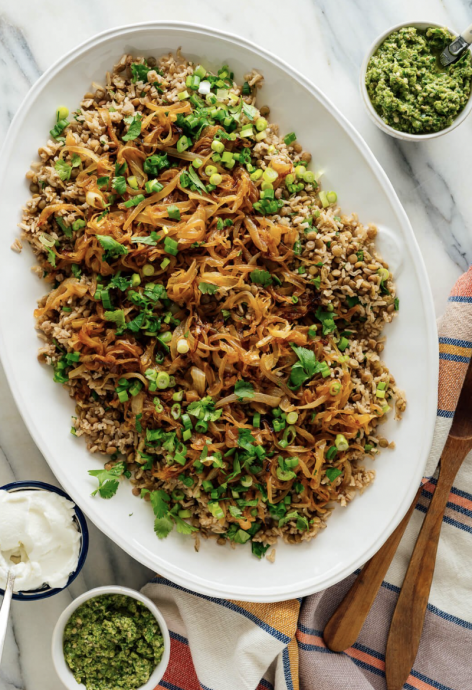 Are you familiar with mujadara? It's a beautiful dish layered with lentils and rice at the bottom, followed by caramelized onions (the more, the better), and hopefully a couple of creamy or spicy sauces on the side. It's one of my favorite items to order at Middle Eastern restaurants, and this recipe tastes just like it.
Mujadara is served across the Middle East in various forms and goes by differing names, depending on where you are.
Mujadara is a seriously inexpensive vegetarian meal that would make a statement at your next get-together.
It's also special diet-friendly, since it's gluten free and easily vegan/dairy free (simply serve hummus or tahini sauce on the side instead of yogurt).
Ingredients:
4 medium cloves garlic, smashed and peeled
2 bay leaves
1 tablespoon ground cumin
1 ¾ teaspoons fine sea salt, divided
Freshly ground black pepper
5 cups water
1 cup brown* basmati rice (regular, not quick-cooking), rinsed and drained
1 cup regular brown or green lentils**, picked over for debris, rinsed and drained
⅓ cup extra-virgin olive oil
2 medium-to-large yellow onions, halved and thinly sliced
½ cup thinly sliced green onions (from 1 bunch), divided
½ cup chopped fresh cilantro or flat-leaf parsley, divided
Plain whole-milk or Greek yogurt, for serving
Spicy sauce, for serving (optional): shatta or zhoug or store-bought chili-garlic sauce or even sriracha