Spicy Shrimp Stacks with Mango Salsa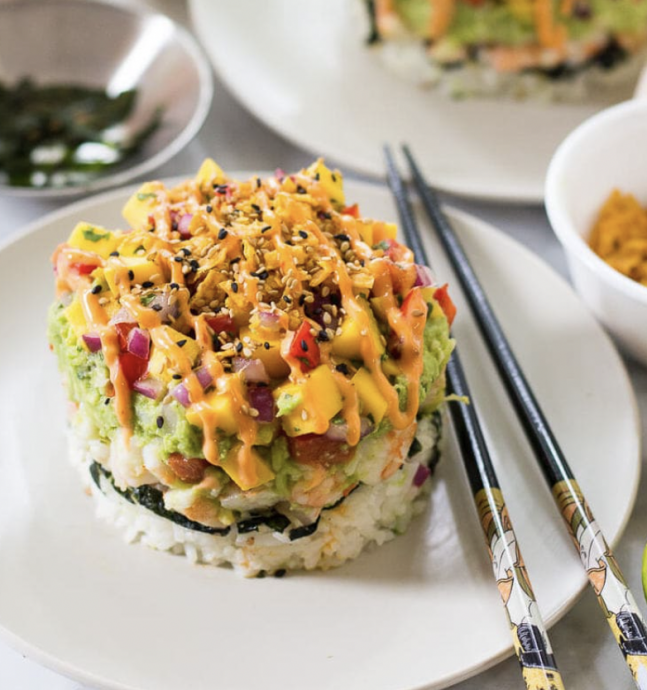 These Spicy Shrimp Stacks are a fun twist on the spicy California roll topped with fresh guacamole, bang bang sauce and homemade mango salsa.
The mango salsa I use in this recipe is super easy to make. All you have to do is mix together the mango, red pepper, red onion, cilantro, lime juice and salt. If you want, you can also substitute the mango salsa for some regular fresh salsa or pico de gallo.
Ingredients:
1 lb frozen cooked shrimp, defrosted and tails removed
1 inch sheet nori (seaweed (find it in grocery stores near the take to go sushi or Asian sauces aisle)
1 tbsp Wonton or tortilla strips for garnish
Sesame seeds to garnish
Bang Bang sauce
1/2 cup light mayo
1 tbsp sweet chili sauce
2 tsp Sriracha
Quick guacamole
1 avocado mashed
1 tbsp lime juice
1 clove garlic minced
1/4 tsp salt
Mango salsa
1 mango diced
1/4 cup red pepper diced
1/4 cup red onion diced
2 tbsp cilantro chopped
1 tbsp lime juice
1/4 tsp salt
Sushi rice
1/2 cup dry sticky rice
3/4 cup water
1/2 tsp salt
2 tbsp rice wine vinegar
1 tbsp sugar