Pumpkin Pecan Scones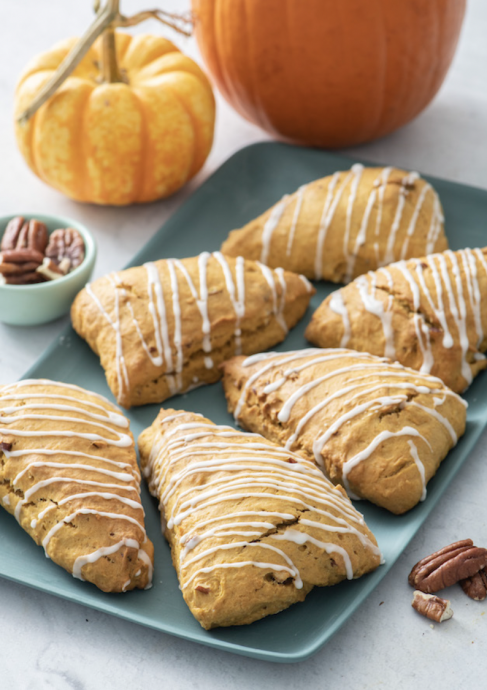 These Pumpkin Pecan Scones are a perfect fall time recipe. Loaded with crispy fresh pecans and pumpkin, these little treats are absolutely delicious!
At this little shack in the woods near our house (that's literally what this breakfast place is), they make the most insanely delicious homemade scones seasonally, like cherry for Valentine's Day or blueberry in late summer. We haven't been to this little gem of a shack in a few months, but I would bet anything that right about now they are baking fresh pumpkin scones.
Ingredients:
For the Scones:
3 cups all purpose flour
1/3 cup packed brown sugar
1 tablespoon baking powder
1/2 teaspoon kosher salt
1 teaspoon ground cinnamon
1/4 teaspoon ground nutmeg
1/2 cup chilled unsalted butter, cut into small cubes
2/3 cup pumpkin puree
2 large eggs
1/2 cup chopped toasted pecans*
For the Glaze:
1 cup powdered sugar
1-2 tablespoons milk of choice, slowly add until desired consistency