Confetti Sprinkle Cupcakes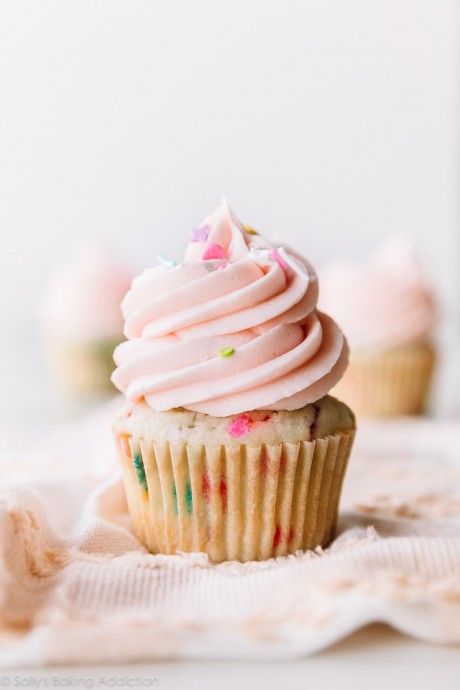 Maintaining all the flavor from my favorite vanilla cupcakes, these confetti cupcakes are soft, fluffy, and extra moist. Creamy vanilla buttercream and extra sprinkles are the perfect finishing touch. I guarantee you'll use this birthday cupcakes recipe time and time again!
There's nothing sweeter than a batch of vanilla cupcakes with sprinkles. Unless, of course, those cupcakes include a tall swirl of pink buttercream. Confetti sprinkle cupcakes are the quintessential birthday treat that never goes out of style. This cupcake recipe is proven successful time and time again.
The perfect cupcake texture is the result of 4 magic ingredients. Creamed Butter: Make sure you use the correct room temperature butter. Egg Whites (no yolks): Egg whites lift up the crumb instead of weighing it down. Sour Cream: Sour cream leaves all the moisture. Cake Flour: Cake flour, instead of all-purpose flour, promises an extra soft texture. If you can't get your hands on cake flour, use this cake flour substitute. Without each, the cupcakes taste heavy, dense, and dry. You also need granulated sugar, vanilla extract, whole milk, salt, baking powder, baking soda, and sprinkles.If you're searching for the most perfect confetti cupcakes, I've got you covered!
Ingredients:
1 and 3/4 cups (210g) cake flour (spoon & leveled)*
3/4 teaspoon baking powder
1/4 teaspoon baking soda
1/4 teaspoon salt
1/2 cup (115g) unsalted butter, softened to room temperature
1 cup (200g) granulated sugar
3 large egg whites, at room temperature*
2 teaspoons pure vanilla extract
1/2 cup (120g) full-fat sour cream at room temperature*
1/2 cup (120ml) whole milk at room temperature*
1/2 cup (80g) rainbow sprinkles* (plus extra for garnish)
vanilla buttercream or your choice of frosting