Beefy Italian Stuffed Shells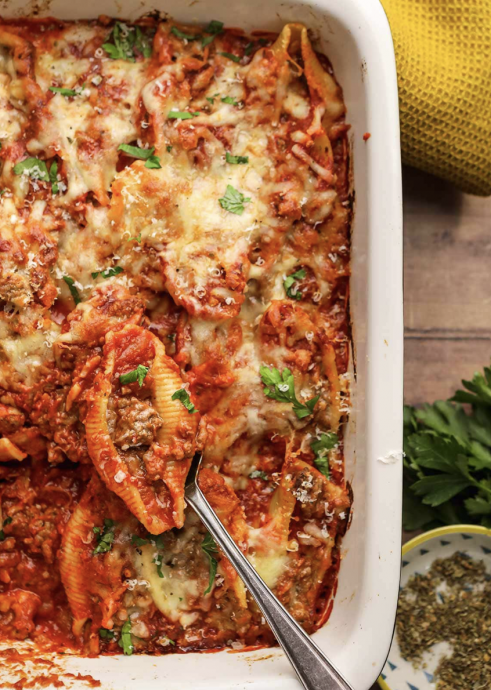 This Stuffed Shells recipe is a delicious alternative to classic pasta dishes. The ground beef stuffed shells have Italian herbs, homemade tomato sauce, and melty cheese. So, you get the same basic flavors of Spaghetti, but cooked inside the jumbo pasta shells.
The combination of sauce, cheese, and jumbo shells with ground beef makes an impressive and hearty dish. Serving the sauce and cooked ground beef in the center of the jumbo pasta shells is more unique and fun than a typical pasta recipe. Additionally, this family-pleasing comfort meal is still easy enough to make for weeknight dinner recipes.
With easy recipe instructions, you can prep the entire dish in a few minutes. Once the homemade sauce and cheesy beef are added to the cooked pasta shells, you just need to pop it in the oven for 25 minutes to finish. Then they'll come out the perfect melty, cheesy Italian shells. Enjoy the Beefy Italian Stuffed Shells with a side of simple tossed green salad and Garlic Bread to complete the delicious meal.
Ingredients:
12 ounces jumbo pasta shells
1 pound ground beef , (85/15)
1/2 yellow onion , diced
2 cloves garlic , minced
1 tablespoon Italian seasoning
14 ounces canned diced tomatoes
3 cups marinara sauce
1/4 cup tomato paste
1 1/2 cups mozzarella cheese , shredded, divided
1/4 cup Parmesan cheese , shredded
2 tablespoons fresh parsley , minced