Arroz Con Pollo (chicken with rice)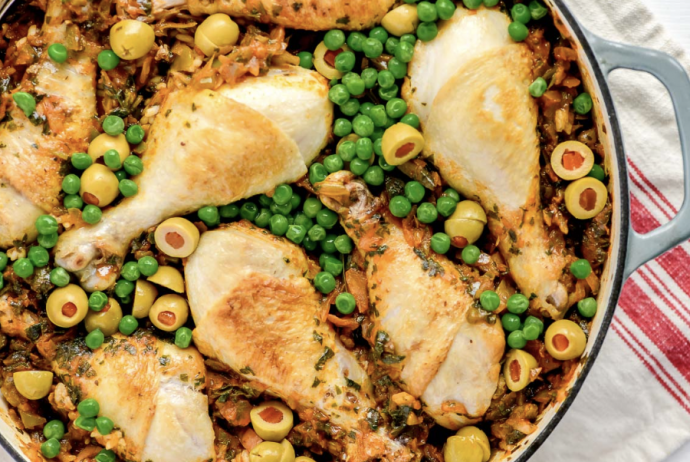 Experience the flavors of Latin cuisine with this arroz con pollo recipe - a perfect blend of savory chicken, aromatic spices, and fluffy rice!
Arroz con pollo is a flavor packed one-pot meal and a popular comfort food from Spain to every corner of Latin America. Each region has their own interpretation of the dish, which is, in essence, a simpler version of paella. My version is pared down family dinner style, and definitely a gringa version, but retains much of the flair that makes this dish famous. It's not a meal you're gonna throw together in 30 minutes, for sure. But that little bit of extra effort pays off big time.
Ingredients:
8 chicken legs (about 2 – 21/2 pounds)
3 Tbsp olive oil
1 medium onion, rough chopped
5 cloves garlic
1 green pepper, seeded and rough chopped
1 jalapeño, rough chopped
large handful cilantro leaves and stems
1 tsp salt
1 tsp black pepper
1 tsp dried oregano
2 bay leaves
1 tsp sweet paprika
1 tsp smoked paprika
1/2 tsp anatto
2 Tbsp tomato paste
2 cups long grain rice (uncooked)
1/2 cup smoked ham, cut in small cubes
3 cups hot chicken stock or broth
GARNISH
1/2 cup pimento stuffed green olives
1 Tbsp capers
1/2 cup cooked peas