Salsa Verde Turkey Enchiladas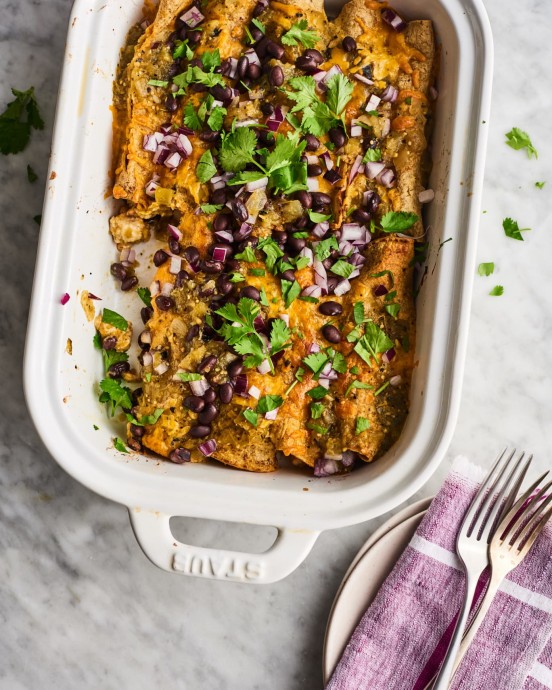 If I could eat homemade enchiladas every night for dinner, I would — and this extra-easy version lets me live out that dream. It calls on a jar of salsa verde to add a bright punch of flavor, and swaps out beef for lean ground turkey. The result is a flavorful weeknight dinner recipe that's filling, fresh, and practically impossible to dislike.
Before you head into the kitchen to make these enchiladas, here are a few tips. If your tortillas are brittle and hard to roll, microwave them. I like to wrap my tortillas in a damp paper towel and microwave them on high for about 15 seconds before working with them. Because the enchiladas are so cheesy, make sure to coat your baking pan with cooking spray before assembling the enchiladas. This will help make cleanup much easier and prevent your tortillas from sticking to the pan and ripping apart. Assemble your enchiladas in the baking pan seam-side down. This will help make sure the filling doesn't ooze out during baking.
Try to cook this amazingly delicious Salsa Verde Turkey Enchiladas for dinner, and I'm sure it will become a new family favorite!
Ingredients:
Cooking spray
1 (about 15-ounce) can black beans
8 ounces sharp cheddar cheese, shredded (about 2 cups)
1 tablespoon olive oil
1 pound ground turkey
1 (about 16-ounce) jar salsa verde, divided
10 (about 6-inch) corn tortillas
1/2 small red onion
2 tablespoons fresh cilantro