Cinnamon Twists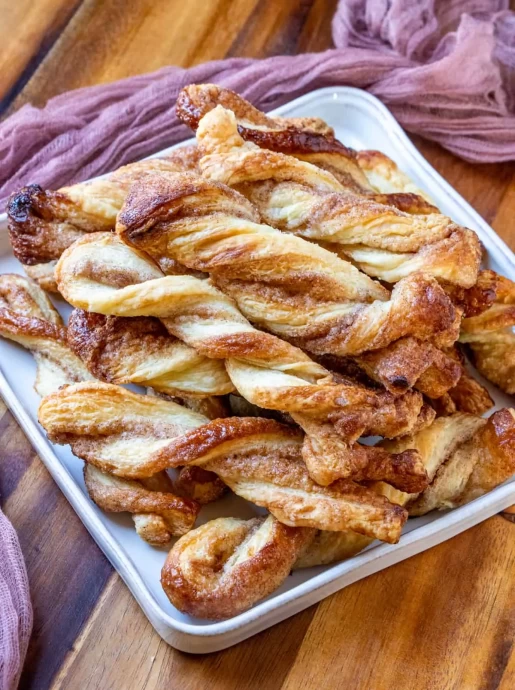 Crunchy, flaky and full of flavor these 4 ingredient Cinnamon Twists are a tasty snack that you can munch on all day! Quick to whip up and easier to eat.
So growing my mom always bought these things called Cinnamon Twists of also known as French Twists. They are pretty much a puff pastry covered in cinnamon and sugar.
Needless to say they were one of the most addicting snacks of my childhood. Unfortunately we cannot find them often these days, so we started making our own. Let's just say that this recipe is SUPER simple and makes a ton! If you are a fan of crunchy and cinnamon flavored treats then these are for you.
This recipe uses 4 ingredients which are pretty much pantry staples. You can make then as soft or as crunchy as you like, depending on how long you bake them. We like to make them longer, but you can customize to any size that you like. This is one of those recipes that you just want to munch on all day and you won't get sick of them, at least we haven't but that plays kind of into the love we have for these already. Trust me when I say that these are super crispy, and just full of all that cinnamon sugar goodness. With this Cinnamon Twist recipe we love to make a simple dipping sauce of powdered sugar and milk, sometimes we will add vanilla as well. Cinnamon twists need to be stored in an air tight container such as a zip top bag or Tupperware container (our preference) otherwise they will get soggy with the moisture.
Ingredients:
2 sheets puff pastry thawed
1/4 cup butter melted
1 cup sugar
2 tsp cinnamon