Gluten Free Banana Snack Cake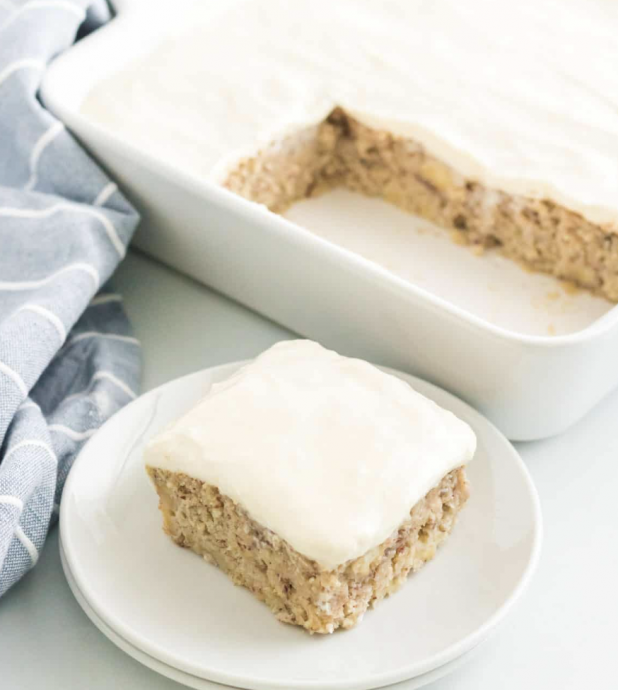 Treat yourself to a healthy snack that feels like an indulgent dessert with this easy Gluten-Free Banana Snack Cake! It's finished off with a light and fluffy cream cheese frosting made with Greek yogurt.
This gluten-free snack cake is a total treat for everyone. It looks like cake, it tastes like cake, but it's healthy enough to eat for breakfast. It's incredibly moist and tender, and the vanilla frosting on top is super soft and fluffy.
Since the cake is made with oat flour and almond meal to keep it as nutritious as possible, it does have a slightly denser texture than your average cake – it feels a little bit more like moist banana bread. And like banana bread, it tastes amazing on its own! Although I do highly recommend adding the frosting.
Not only does the Greek yogurt frosting add a lovely finishing touch for your taste buds, but it also provides a whole lot of protein without much additional sugar. I could eat it with a spoon! You'll definitely want to cut yourself a generous slice of this gluten-free cake – and there's no reason to feel guilty about it.
Ingredients:
For the Banana Snack Cake
1/2 cup almond meal
1 cup oat flour certified gluten-free if necessary. Make your own by using a blender/food processor to grind rolled oats into a powder, sifting out any chunks
1/4 cup tapioca starch
1/4 cup granulated sugar
1 1/2 teaspoons baking powder certified gluten-free if necessary
3/4 teaspoon kosher salt
1 cup mashed bananas about 3 small, very ripe bananas
3 large eggs at room temperature
1/4 cup vegetable oil or canola oil
1/4 cup milk at room temperature
For the Cream Cheese Greek Yogurt Frosting
4 ounces cream cheese at room temperature (I used light)
1/4 cup plain Greek yogurt I used nonfat
1 teaspoon vanilla extract
1/4 cup powdered sugar