Crustless Three-Cheese Tomato-Basil Quiche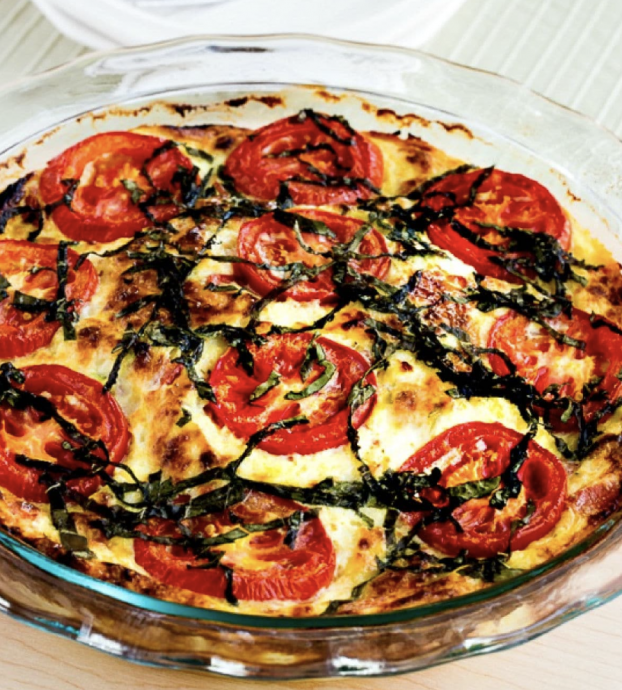 If you think tomato quiche sounds like a good idea, I promise that this Crustless Three-Cheese Tomato-Basil Quiche is absolutely a wow! And even when tomatoes are basil aren't growing in the garden, with Roma tomatoes and purchased fresh basil you can make this almost any time of year!
I used shredded Swiss cheese in this recipe, which is a cheese that's used in traditional quiche recipes. But if you don't have Swiss or don't like it, this would be delicious with shredded Monterey Jack or even Mozzarella. I used cottage cheese and I wouldn't skip that ingredient. You can't really taste it in the finished dish but it adds creaminess and protein. And finally, some grated Parmesan Cheese added to the cheesy flavor, but any type of pungent hard grating cheese would be great.
Ingredients:
6 small Roma tomatoes (see notes)
1/2 cup thinly sliced green onion
6 large eggs, beaten
1/4 tsp. Italian Herb Blend
1/2 tsp. Spike Seasoning (optional but recommended)
1/2 cup half-and-half (see notes)
salt and fresh-ground black pepper to taste
1 cup cottage cheese
2 cups shredded Swiss cheese
1/4 cup finely grated Parmesan cheese
1/4 cup thinly sliced basil (see notes)