Egg, Spinach and Feta Breakfast Wrap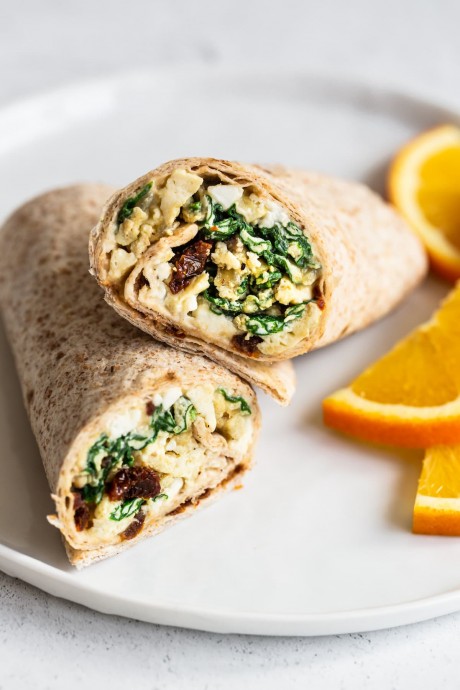 Do you get stuck in a rut when it comes to breakfast? I feel like I go in phases where I'm eating the same thing every day… and it's usually either oatmeal or eggs. Or if I'm feeling fancy, an egg and oat combo bowl! I know it sounds weird, but it's so good! When thinking of different ways to switch up my breakfast game I got inspired by the Starbucks spinach, feta egg white wrap and developed this recipe! Before you take a look at this ingredient list and question why I am including hummus, I'm actually convinced it's the perfect spread no matter what time of day!
It's so good in this breakfast wrap, I might just start making breakfast sandwiches with hummus as well! Even if hummus for breakfast seems a little odd to you, I hope you'll give this wrap a try! Not only is it quick to make, but it requires only a few ingredients and it's portable as well. You can use any type of tortilla or wrap you like for this breakfast wrap. I personally like to buy whole grain or grain-free wraps… ones made with almond or cassava flour or even cauliflower or coconut. You can omit the feta cheese to keep this wrap dairy-free! It'll still be creamy and delicious thanks to the hummus. If you need to take it with you on the go, you can simply use a little foil to wrap it up and head out the door. The foil will keep the wrap together and help to keep it relatively warm.
Ingredients:
1 whole grain or grain-free tortilla (I like Seite's burrito size tortillas)
1–2 Tablespoons hummus (any flavor will work)
1 egg
1/4 cup egg whites
1/8 cup onion, chopped
2 button mushrooms, sliced
2 cups baby spinach
1 Tablespoon crumbled feta
1 Tablespoon sun-dried tomatoes, chopped
sea salt and fresh ground pepper, to taste
hot sauce, for topping (optional)