Ham and Cheese Cornbread Sandwich With Pickled Jalapenos Recipe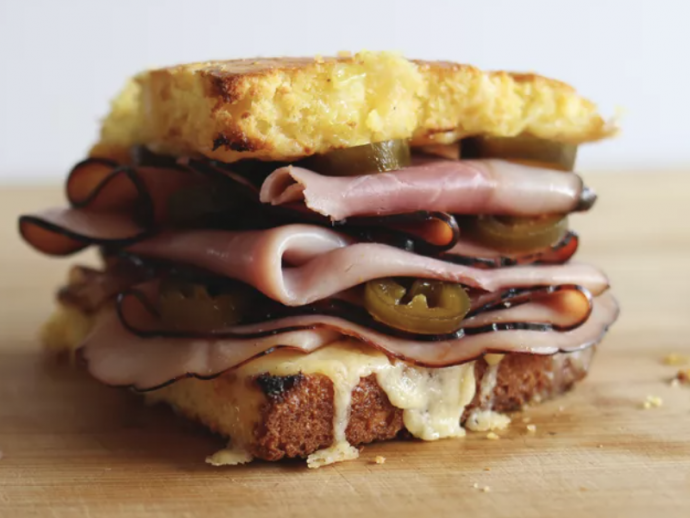 This sweet and savory cornbread sandwich, loaded with ham, cheese, and pickled jalapenos, can be made with almost any variation of cornbread—as long as it's not too soft and crumbly. If you have a sturdy cornbread that's still a little crumbly, don't worry—the melted cheddar cheese acts as a glue that helps the bread stay intact.
This recipe also calls for chow chow, which is a southern cabbage relish that's full of sweet and spicy pickle-y flavor. You can find chow chow at most Southern grocery stores or online, but if you can't, feel free to swap it out for spicy pickle relish which works wonderfully.
Ingredients
For the Cornbread:
1 tablespoon vegetable shortening
2 cups yellow cornmeal
1 1/2 cups all-purpose flour
2 teaspoons salt
2 teaspoons baking powder
1 teaspoon baking soda
2 tablespoons granulated sugar, optional
3 large eggs, beaten
2 cups milk
1/4 cup melted butter
Melted butter, for brushing the top
For The Sandwich:
1 tablespoon Duke's mayonnaise
1 tablespoon chow chow
1 (4-inch square) piece cornbread, sliced in half
1/3 cup white cheddar cheese, shredded
1/4 pound honey baked ham, shaved thinly
1 tablespoon pickled jalapeños