Homemade Crispy Baked Fish Sticks (kid & toddler-friendly!)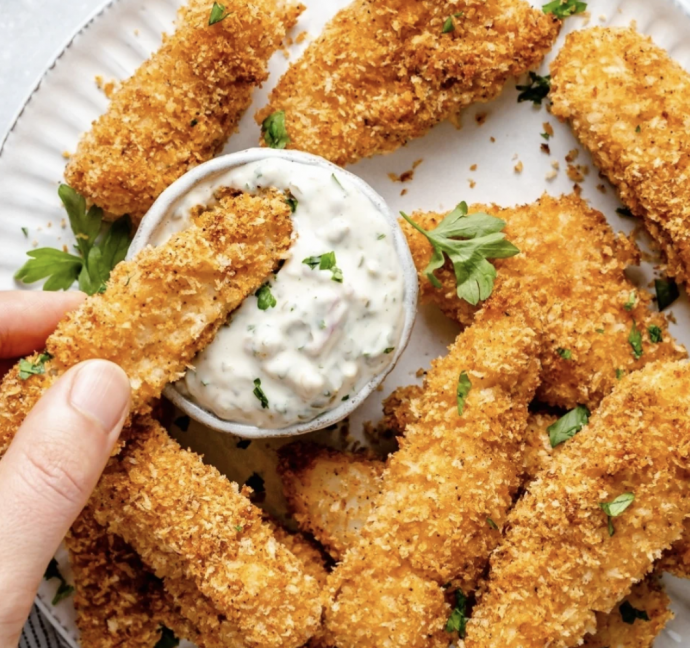 Homemade baked fish sticks that are deliciously crispy, easy to make and packed with protein. These healthy baked fish sticks make a wonderful dinner for kids, toddlers and adults alike because they're super nutritious and fun to eat. Serve with your fav sides and dipping sauces!
Not only are these healthy fish sticks so simple to make but they're also such a great dinner for kids and toddlers. I created this recipe for Sidney once we introduced him to fish, and he is beyond obsessed. They're a wonderful source of protein and healthy fats for kiddos and bonus, they're fun for them to eat! We loved watching Sidney practice his grips and learn how to eat these yummy fish sticks.
Serve them with your fav dipping sauces (yes, we linked a bunch of options) and a few delicious sides and have yourself the best weeknight dinner ever.
Ingredients:
2 cups panko breadcrumbs
Nonstick olive oil cooking spray
3/4 teaspoon salt
1 teaspoon black pepper
1 teaspoon onion powder
1 teaspoon paprika
½ teaspoon garlic powder
1/4 teaspoon cayenne pepper, only if you like a little bit of heat
2 large eggs
2 tablespoons milk of choice
1 ¼ pound cod filet