Chicken Alfredo Pot Pie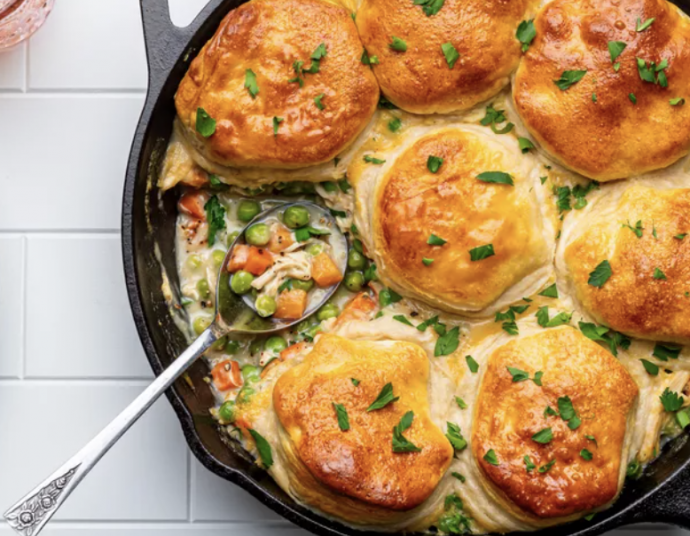 Chicken pot pie is the ultimate cozy comfort food, but making the dish from scratch is time consuming and can be tricky. In this recipe, using store-bought Alfredo sauce and canned biscuits instead of homemade bechamel and pie crust make it a weeknight friendly meal without sacrificing flavor.
Creamy Alfredo sauce mimics the rich and velvety texture of traditional pot pie filling, plus there's no need to add aromatics like onions or garlic. I like to add lemon zest to the sauce to brighten it up, and I always serve it with plenty of hot sauce. Try it alongside a simple green salad for a weeknight dinner that comes together in under an hour.
Though this filling includes the traditional chicken, peas, and carrots, other hearty green vegetables or sautéed mushrooms will work. This recipe is also a great way to use up leftover turkey after Thanksgiving. If you prefer, you can certainly top with homemade biscuits or pie crust instead of store-bought, but be sure to brush with egg wash before baking.
Ingredients:
1 (15 ounce) jar store-bought Alfredo sauce
1/4 cup store-bought or homemade chicken broth
1 teaspoon finely grated lemon zest
2 1/2 cups frozen peas and carrots (from one 16-ounce bag)
2 cups cooked, shredded chicken
Kosher salt, to taste
Ground black pepper, to taste
1 (16.3 ounce) tube refrigerated uncooked biscuits
1 large egg, well beaten
1 tablespoon coarsely chopped fresh parsley, for serving, optional