Mexican Tater Tot Casserole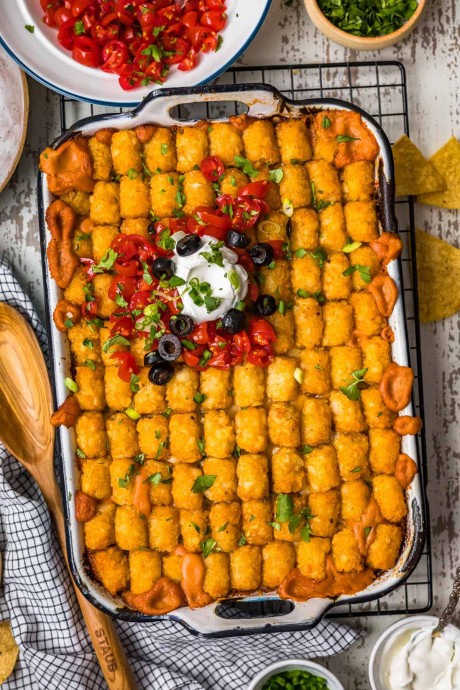 Spicy, hearty and tasty. This Mexican Tater Tot Casserole is pure comfort food! A lovely twist on the classic casserole, this Mexican Tater Tot Casserole is a mixture of taco meat, beans, corn, and cheese topped with tater tots and enchilada sauce. The family will love this one dish meal, with a spicy kick! If you're after a casserole fix but craving something a little different, whip up this Mexican-inspired Tater Tot Casserole. It's an addictive mix between taco and casserole.
With spicy taco beef, tomatoes, corn, cheese, and of course, a layer of crispy browned tater tots on top, this casserole is always a hit! One of the best parts of this Casserole recipe is actually the toppings! You can load the finished casserole with all kinds of goodies; chopped tomatoes, avocados, sour cream, and cilantro. The veggies and cilantro give the casserole such a great fresh flavor. This is a great freezer meal to make for a large family. You can freeze this Mexican Tater Tot Casserole. You can either prepare it ahead of time and freezer to eat later, or just freeze any leftovers if you don't plan to eat them in the next few days.
Ingredients:
1 16-ounce can refried beans
2 10-ounce cans original Ro-tel style tomatoes, divided; drained
½ cup minced fresh cilantro leaves divided
2 pounds 90% lean ground beef
1 teaspoon hot sauce
1 tablespoon canola or vegetable oil
1 medium yellow onion minced
2 cups Colby Jack shredded cheese
2 cups Mexican-style blend shredded cheese
3 garlic cloves minced
2 tablespoons chili powder
1 teaspoon ground cumin
1 teaspoon ground coriander
½ teaspoon dried oregano
1 tablespoon cider vinegar
1 teaspoon brown sugar
1 can corn drained or 1 cup frozen corn
1 32 ounce package frozen tater tots
Juice of 1 lime
Possible Garnishes:
¼ cup chopped fresh cilantro leaves
Chopped tomatoes
Sliced scallions
Shredded Mexican blend or Sharp Cheddar
Sliced or chopped avocados
Sliced black olives
Sour Cream
Chopped lettuce